Published on July 27, 2020 by Holly Porter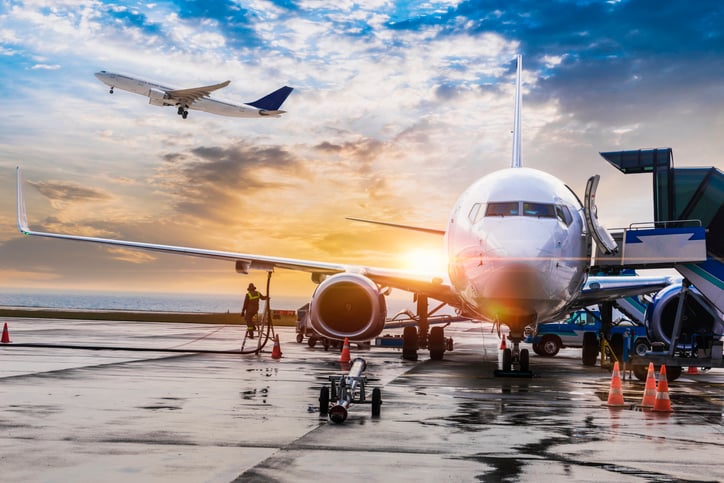 What's been happening in the commercial world in the past week? Read on to find out!
UK & US Trade Tensions Over Aeroplane Manufacturer Subsidies
Trade tensions between the UK and US over aeroplane manufacturer subsidies have rumbled on for months, however things now look set to worsen.
So what is the backdrop? The US believes that Airbus is vastly and unfairly subsidised by European governments notably the UK and took its complaint to the World Trade Organisation (WTO). Here, the US was awarded $7.5bn of retaliatory trade measures as compensation. Accordingly, a 24% tariff was added to Scotch malt whisky, UK cashmere sweaters and biscuits including shortbread exported to the states. As expected, Scottish exporters have suffered disproportionately from the tariffs with a £200m fall in whisky exports to the US reported by the Scottish Whisky Association. It should be noted that this only covers single malts.
The situation has deteriorated further since as the US launched another claim about Airbus subsidies, the result of which is due in August. The US consultation is likely to see more tariffs on other European countries such as Germany, France and Spain alongside the UK, as the main Airbus-manufacturing countries. There are concerns that the US may attach a tariff to blended Scotch, which could cost a further £660million for Scotland as well as UK gin and salmon, which again may impact Scotland particularly harshly.
However, the EU is also bringing a claim against the US. The European Union has launched a complaint with the WTO over concerns that Boeing is over-subsidised by the US, of which the outcome has been delayed due to COVID-19. If affirmative, the effect of mutual retaliatory tariffs could result in re-negotiations.
However, there are a number of external complicating factors that will delay any conclusion including but not exclusive to: the fact the UK and US are currently engaged in talks over a bilateral free trade deal, the upcoming US presidential election and the increase of both parties in Airbus and Boeing subsidies over the pandemic.
Talking Points: This is a clear example of the wider effects of tariffs in trade disputes. How can the UK and the US work to resolve this issue especially in the light of COVID-19 interventionism? Are there any competitors to Boeing and Airbus?
---
Sign up to our commercial awareness newsletter for updates sent straight to your inbox!
Boost your Commercial Awareness
---
Dyson Cuts 900 Jobs
This week, Dyson announced that 900 jobs will be cut, of which 600 will be in the UK. The majority of the cuts are from retail and customer service roles as part of an accelerated restructuring. This means 15% of Dyson's UK staff will lose their jobs, higher than the global rate of 3%. So far, the British technology company has not furloughed any staff or received government funding to support its workforce.
Early last year, Dyson moved company headquarters from Wiltshire to Singapore, a move that sparked criticism given CEO James Dyson's backing of Brexit. Analysts have questioned whether this move alongside high job cut numbers in the UK may cause Dyson to focus on key Asian markets instead of in Britain. A catalyst for this decision is likely to have been lower corporate tax rates and the Free Trade Agreement signed between Singapore and the EU in 2018.
Talking Point: Which other companies have moved their HQs since Brexit?
Investigations into Big Tech Are Increasing
This week, Amazon, Apple, Facebook and Google, some of the world's largest technology companies were due to appear via video link before an antitrust panel of the House of Representatives Judiciary committee. The meeting was delayed, however the issues under consideration remain more pressing than ever. Amazon CEO Jeff Bezos, Apple CEO Tim Cook, Facebook CEO Mark Zuckerberg and the CEO of Google's parent company Alphabet Sundar Pichai will testify to the Antitrust Subcommittee in the final stage of a yearlong investigation into the four technology companies over monopolistic practices. This means four out of the five "Big Tech" are under review – the other, Microsoft, has so far eluded the investigation. The committee is expected to propose legislative reforms so as to combat the seeming inefficacy of antitrust laws.
Apple is also under investigation by the EU Commission over allegations that rules for app developers on the distribution of apps via the App Store breach EU competition rules. A separate EU Commission claim has more recently been launched over Apple's limitation of access to NFC technology regarding its digital payments technology Apple Pay. Apple may be fined billions of dollars if the Commission finds it guilty of anti-competitive practice.
Talking Points: Which companies have made complaints over Apple's monopolistic practices? Do you think technology companies should have to share their developments with others? What legislative reforms might the US House of Representatives seek to enforce?
Leicester Businesses Sue the Government
10 firms in Leicester have begun proceedings to sue the government over a local lockdown. The companies are arguing that there was a lack of transparency and information was provided at the last minute. The companies allege that Leicester businesses are facing a longer-term reputation tarnish just when they should have been seeing customers begin to visit again. The Department of Health and Social Care (DHSC) has not commented on the stigma concerns.
How can the government address regional disparities in light of localised COVID outbreaks?
Words: Holly Porter
Missed last week's update? Read it here!
Read More Updates
Read our Breakdowns on Industry Specific COVID-19 Impacts