If you're an aspiring
solicitor
, you'll have heard about the SQE. In 2017, the
Solicitors Regulation Authority
(SRA) officially announced a change in how future solicitors will train and qualify when SQE (Solicitors Qualifying Examination) is introduced in September 2021.
Why Is the SQE Being Introduced? Test
The SQE is being introduced in response to The SRA's concern about how aspiring solicitors are prepared for solicitor practice. It argues that current methods employed by educational institutions to educate and examine (on courses such as the qualifying LLB Law Degree, LPC and the GDL) are inconsistent and difficult to monitor.
The new route is intended to dispel any preconceived notions that a university route is better than an apprenticeship or 'equivalent means' route, since a standardised test will be given. The SRA (Solicitors Regulation Authority) describes this as giving all qualifiers the opportunity to "demonstrate a level of intellect and analytical ability at least equivalent to that of a graduate."
The SRA also acknowledges the varied entry requirements and assessment methods for law degrees, the GDL and the LPC, and the difficulty this creates in attempting to provide a standardised qualification. The new test will hopefully help to alleviate some of these concerns.
As a result, the SRA suggested that one standardised exam (the SQE) be implemented across the board in an attempt to bring uniformity to the way individuals are examined going forward.
How to Qualify as a Solicitor Through the SQE Route
To qualify as a solicitor, candidates will need to:
Have a degree or an equivalent qualification, or have gained equivalent experience
Have the legal knowledge needed to pass the SQE (this can be achieved by taking an LLB or law conversion course)
Pass SQE stages 1 and 2
Have completed at least two years of qualifying legal work experience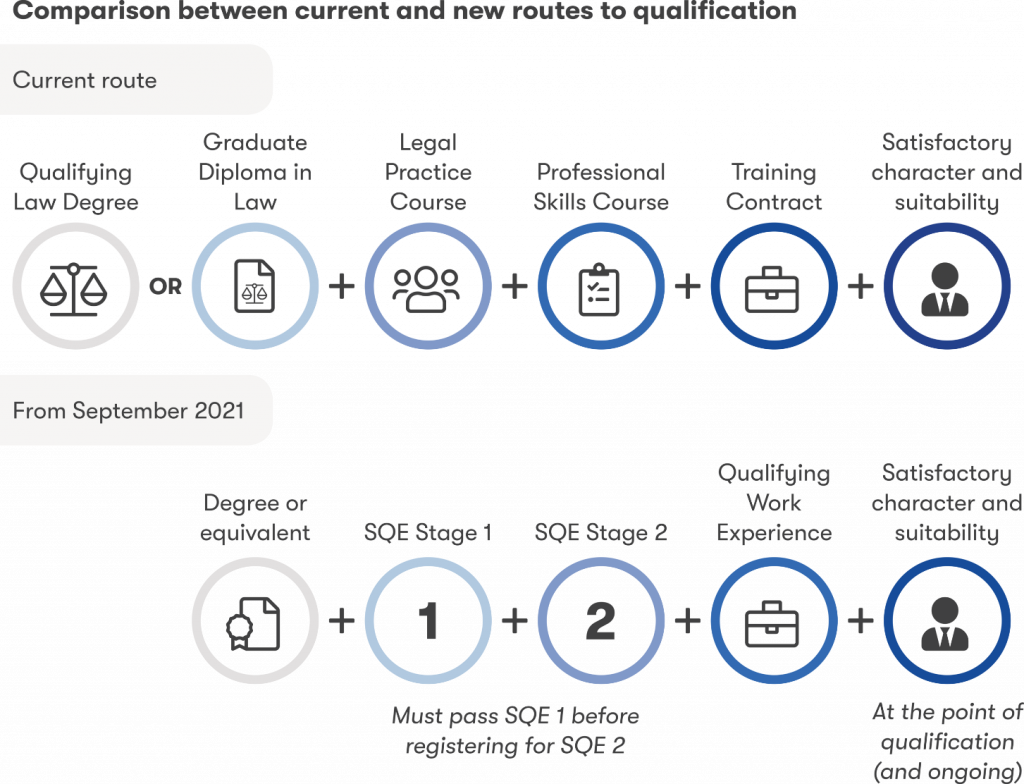 Infographic by BPP Law School
What Will the Solicitor's Qualifying Exam Involve?
The SQE will be split into two parts:
The first part (SQE 1) will test a candidate's ability to use and apply legal knowledge; and
The second part (SQE 2) will test legal skills.
Part One
The first part will broadly assess functioning legal knowledge through a series of computer-based examinations. Part one is likely to be made up of several different question formats, including:
Single best answer questions
Extended matching questions
Multiple-choice questions
Part one of the Solicitor's Qualifying exam will also have a written assessment. Candidates will have three attempts (taken within six years) to pass the exams. They can only move on to part two once they have done so.
Proposed exam topics for part one of the SQE include:
Professional conduct, public and administrative law and the legal systems of England and Wales
Dispute resolution on contract or tort
Property law and practice
Commercial and corporate law and practice
Wills and the administration of estates and trusts
Criminal law and practice
Work-Based Learning
In addition to sitting the SQE, candidates will have to complete a period of 'work-based learning' (similar to the current training contract system), which will take place in a law firm or SRA approved organisation. The length of this training set to be 24 months, and at the end of this period of work-based learning, candidates will then sit part two of the SQE.
Accepted work-based learning includes the following:
Paralegal work
A placement during a law degree
A student law clinic or at the Citizens Advice.
Part Two
The second part of the Solicitor's Qualifying Exam will assess core legal skills (for example, client interviewing, advocacy, case and matter analysis, legal research, written advice and drafting) through a series of five assessments repeated in two separate legal contexts. These assessments will take place after the candidate has completed a period of work based learning.
Five key things you need to know about the SQE.
For information on how the SQE will affect your career, watch the SRA's video:
For More Information on How The SQE Will Affect Your Career, watch the SRA's video below:
The Transitional Phase
Law students who are in the process of completing a law degree, conversion course, LPC or training contract will be able to choose between the old and new routes until the SQE comes into force in 2021.
You can also continue with the current route if, before 1st September 2021, you complete, start, accept an offer, or pay a deposit for a law conversion course.
If you're starting your LLB next year, you must accept your offer and start your course by 21st September to continue with the current route.
You then have until 31st December 2032 to qualify as a solicitor under the current pathway.
SQE Costs
The total fee for taking both SQE assessments will be £3,980.
The breakdown is as follows:
SQE1: £1,558 (covering 10 hours of examinations testing candidates' functioning legal knowledge.)
SQE2: £2,422 (covering 14 hours of written and oral tasks testing both practical legal knowledge and skills)
The costs do not cover SQE training, which will vary in price depending on the institution and course you choose.