Published on August 17, 2020 by Holly Porter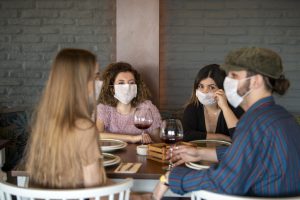 What's been happening in the commercial world in the past week? Read on to find out!
Government's Eat Out Scheme
The government's 'Eat Out to Help Out' Scheme has been underway for several weeks now. To date, 83,068 restaurants have signed-up for customers to use the discount. This number includes fast-food chains such as McDonald's, Five Guys and KFC, restaurants such as Franco Manca's and Pizza Express, cafes such as Starbucks, Caffe Nero and M&S café as well as local and independent restaurants and cafes. The scheme sees diners receive a 50% reduction for their bill, for anything up to £10 off.
What are the results so far? There has certainly been a surge in restaurant visitors. For the first week of the scheme, small towns saw the greatest increase with a 25% increase in footfall between Mondays and Wednesdays. Regional cities also enjoyed a 9.2% gain. In total, diners saved more than £10.5m. Accordingly, the government has set aside £500m to fund the policy throughout August.
The scheme was introduced to help save the hospitality industry, which has struggled greatly due to COVID-19. Many restaurants have closed some of their stores, many jobs have already been axed and 1.4million workers were furloughed. The government is hoping that the scheme may help firms avoid laying off more staff in the autumn.
Read more: How has COVID-19 affected the hospitality industry?
Talking point: How effective do you think the scheme will be in helping the hospitality industry?
---
Sign up to our commercial awareness newsletter for fortnightly updates sent straight to your inbox!
Boost your Commercial Awareness
---
UK Signs Deal for 90 Million Coronavirus Vaccine Doses
This week, the UK placed another order for a coronavirus vaccine. The government has now placed orders for six experimental vaccines, amounting to a potential stockpile of 340m doses:
100million doses from Oxford University/AstraZeneca
30million doses from Janssen
60million doses from Valneva
30million doses from Pfizer/BioNTech
60million doses from GlaxoSmithKline/Sanofi
60million doses from Novavax
This is one of the largest in the world. It should be remembered though that none of these have been proved and their efficacy is unlikely to be revealed until at least late autumn. The government is aiming for the first Janssen and Novavax deliveries in mid-2021 if the vaccines pass the required clinical trials.
Talking point: What pharmaceutical companies are winning the race to find a vaccine?
Just Eat to Create Thousands of Jobs
Just Eat has enjoyed great success this year, with a 44% increase in global revenue for the first six months of 2020. The online food order and delivery service has seen a 32% soar in orders and a customer base increase from 44m to 55m year-on-year. The spike in demand is attributed to restaurant closures during national lockdowns. Sales have been particularly strong in Germany, Canada, the Netherlands and Australia. The fact Just Eat was acquired by a former Dutch rival in February this year, giving it a £6billion boost is also a contributor to the company's growth. Back in June, Just Eat Takeaway announced that it was acquiring its US rival Grubhub for £5.75bn. If successful, Just Eat Takeaway will be the world's biggest delivery company outside China.
As the UK hospitality industry struggles, Just Eat CEO Jitse Groen has announced investment worth tens of millions of pounds, which will create thousands of new jobs. It is hoped that this will help to mitigate the 18,100 jobs in the restaurant sector which are set to be or have been axed over the coronavirus period.
Talking points: Who are Just Eat's rivals and what are their market shares? Is this problematic?
Amazon Launches Online Pharmacy in India
On Friday, e-commerce giant Amazon launched its online pharmacy in India. This is part of Amazon's long-running campaign to enter new markets in overseas territories, which has so far seen the company invest more than $6.5bn into its India operations, making it a key market. Amazon's debut pharmacy is in Bangalore, which has already started accepting orders for over-the-counter and prescription-based medicines as well as traditional medicines and health devices such as glucose meters and nebulisers.
In January, Amazon filed to trademark the name Amazon Pharmacy in the UK, Australia and Canada so if the trial is successful, Amazon is likely to roll out an online pharmacy in the UK over the coming years.
Global Oil Demand Expected to Stay Low Until 2021
This week, the International Energy Agency (IEA) revised its global oil demand forecast for the rest of 2020 and 2021. The organisation, established in OECD framework, released its August market report which revealed that oil demand for 2020 will be 39% below the 2019 level. This equates to a fall of 140,000 barrels per day to 91.9m. The 2021 global demand estimate is predicted to rise to 97.1m barrels per day, showing a small increase. The report cites 'aviation sector weakness' as the main explanation for the forecast.
The pandemic has raised questions over the nature of modern-day oil consumption. Some energy economists believe that COVID-19's effects on the oil market will hasten a collapse and instead oil companies should embrace the transition to energy. A key proponent of such a view is BP's chief executive Bernard Looney. Calls for tougher action on climate change and the rise of renewable energy will play a large role in whether the oil industry will ever reach pre-pandemic levels again.
Read more about the historic cut to oil supply this year
Talking point: What do you think the future of the oil industry looks like?
Words: Holly Porter
Missed last week's update? Read it here!
Read More: