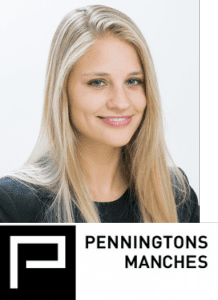 The Lawyer Portal recently caught up with trainee solicitor KC Lloyd, a second-year trainee at Penningtons Manches LLP. Having completed seats with the Commercial Dispute Resolution, Clinical Negligence and Family teams, KC is now sitting in the Commercial, IP & IT department. KC discusses what a day in the life of a trainee solicitor at a commercial law firm really involves – from taking her first sip of coffee in the morning to logging off at the end of a productive day.
See how Vantage can help you begin your legal career at a reputable firm like Penningtons Manches LLP.
See all Training Contract Deadlines
---
Penningtons Manches: My Day as a Trainee Solicitor
8.30am: I arrive at the Penningtons Manches office and grab a coffee and some breakfast on my way past the kitchen. I prefer to arrive when it's still quiet to give myself some time to review my task list for the day and work out what I need to prioritise. It also helps to have an idea of what meetings and appointments the partners and associates that I am working with have scheduled, so I find it useful to quickly check our calendars.
9.00am: I take a look through my emails and deal with any urgent matters that I am able to attend to straight away. Today, a client has emailed requesting clarity on a competition law query. Before my supervising partner arrives, I consider the position and prepare a draft response. As a trainee solicitor I am mindful to run all advice and decisions past those supervising me to ensure they are legally and commercially sound. The team gives me as much support as I need and, as I develop, I am given more responsibility.
10.00am: The Commercial, IP and IT team has a weekly telephone conference call across all of the Penningtons Manches offices on a Monday morning, in which we discuss the work that we anticipate being involved in that week and allocate tasks accordingly. It's a good opportunity to learn more about the matters that other members of the team are working on and to offer assistance where it is needed.
10.20am: After the team call, a partner asks if I would mind assisting him with an urgent commercial matter. I grab my notepad and head into a client meeting with him. Following the meeting, the partner and I discuss the matter further and consider what steps we should take next. As a trainee solicitor, this is a relatively new area for me, so I ask the partner to clarify any points that were raised in the meeting that I was unsure of.
12.30pm: Today we have a lunchtime drafting workshop which is run by one of our partners. It's an interactive session and so as a group (over sandwiches and cake!) we consider a draft agreement and discuss modifications and improvements that can be made to a number of the clauses.
1.30pm: After catching up with a few of the trainee solicitors on my way back to my desk, I check my emails and get back to my task list for the day. I have been asked to consider whether our client's trade mark is potentially being infringed by a third party and if it is, to draft a cease and desist letter accordingly.
3.45pm: An associate asks if I can help her with a research task on a specific tech query. I have a chat with our knowledge lawyer to get some background in the area and to ensure that I can focus my research. In light of my research findings, I have a discussion with the associate and draft an advice note to the client. Penningtons Manches has a team "know how" session in a couple of days and I will use my research to form the basis of my presentation, which will be a great opportunity to practise my advocacy skills and raise my profile.
5.30pm: I dictate my meeting notes from the client meeting earlier today, in case we need to refer to them later.
6.00pm: Tonight, the Employment department have challenged the Commercial, IP and IT team to a game of ping pong. Penningtons Manches encourages a good work/life balance to help build our professional networks. Before I log off, I update my task list and ensure that my time recording for the day is complete.
See all Training Contract Deadlines