The Lawyer Portal recently caught up with two trainee solicitors from Herbert Smith Freehills. They discuss the highlights, the challenges and daily tasks of a trainee solicitor as well as their top tips for making the most of a Herbert Smith Freehills training contract.
See all Training Contract Deadlines
---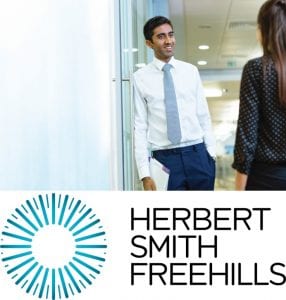 Steven Ramesh Rajavinothan is a trainee solicitor at Herbert Smith Freehills. He studied Philosophy, Politics and Economics at the University of Warwick.
Why did you choose Herbert Smith Freehills?
I really enjoy debating, and I wanted a career path where I could use my analysis and advocacy skills. Having the opportunity to work at a firm with an in-house advocacy group was a big draw for me.
What do you enjoy most about your training contract?
You become very close to people in your department. Although you hope to be friends with your fellow trainees – and we meet up a lot socially – you get to know people you work with very well. Strong relationships are struck up between people at all levels of seniority.
What's the best thing about a Herbert Smith Freehills training contract?
You get responsibility very early on. You hear this kind of thing a lot, but it was still a pleasant surprise. If you show genuine interest in a particular area, you're given the opportunity to run with it, even if it's something that would usually be handled by an associate. This could be drafting a witness statement, or project managing a big transaction, or contacting a client directly. I feel as though I've learned a huge amount; it's been a privilege.
Is there an emphasis on team work at Herbert Smith Freehills?
I feel like I can always talk to my peers and to my supervisors, who are excellent. Some of them have won awards in their field and they're all very approachable and likeable. One of them said to me early on that I should never feel worried at work because whatever happens, between the two of us or with the help of someone else at the firm, we'll find the answer.
What would you like to achieve during your career at Herbert Smith Freehills?
I'd like to go on an international secondment. It's a fantastic learning experience, and a great chance to meet people from other offices. On a personal level I've never lived abroad, so it would be something I'd really enjoy.
---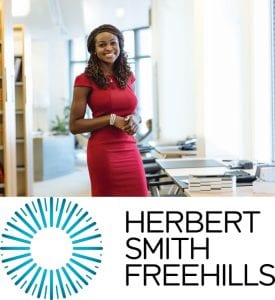 Damilola Onabowale is a trainee solicitor at Herbert Smith Freehills and studied Law at Durham University.
Why did you choose Herbert Smith Freehills?
I needed to work somewhere I'd be challenged and stimulated. Sometimes at Herbert Smith Freehills I feel like I'm a bit out of my depth, but that's a good thing. It's pushed me to discover things about myself and what I'm capable of. I also wanted to work where I'd feel comfortable about who I am.
What do you enjoy most about your training contract?
Herbert Smith Freehills has blown my mind with the initiatives it has. Some of my friends and I are planning the next Multiculturalism in the City event – talks from high-performers about what being from a minority background has meant to them. I plan on staying with the Black Asian Minority Ethnic (BAME) initiatives as my career goes on – it's important to me, and something I really enjoy doing.
I've had the chance to mentor candidates through their applications. The firm held a competition called Above and Beyond and the winner, who subsequently won a trip to Australia, was one of my mentees. That was a real high point for me. Being able to connect with people like that and have that kind of positive effect on their lives is just amazing.
You need to make the most of the opportunities available to you. I studied French at A level, so I've got involved in conversation classes with children from the local school and I'm taking classes to build on my own proficiency. All of this is organised by Herbert Smith Freehills. I don't know of another firm that does it.
Where do you see yourself in the future?
I want to develop into an outstanding technical lawyer. I'm halfway through my second seat and I'm not 100% sure what I want to do when I qualify, but I work hard to leave a good impression on every department I pass through. Excelling doesn't mean being better than everyone else – it means delivering the best quality of work you can, regardless of what it is you're working on.
See all Training Contract Deadlines