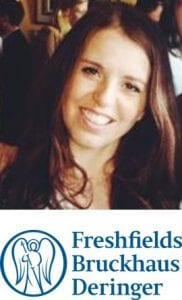 The Lawyer Portal recently caught up with Lottie Sandberg, a trainee solicitor at Freshfields.
In our interview, we speak with Lottie about the highlights, challenges and daily tasks of a trainee solicitor at Freshfields, the importance of commercial awareness as well as top tips for making the most of a Freshfields training contract.
See how Vantage can help you begin your legal career at a reputable firm like Freshfields Bruckhaus Deringer (MC)
See all Training Contract Deadlines
---
How long have you been at Freshfields and what seat are you currently sitting in?
I am 5 months into my Freshfields training contract and I am currently sitting in Dispute Resolution.
What sorts of tasks do you perform on a daily basis?
The tasks are incredibly varied so every day is different. Work may be high pressured, time consuming and intense, but it is certainly never repetitive or boring. By way of example, my day today consists of reviewing 1,000 documents before we disclose them to the other side, researching the implications of the Supreme Court's Brexit judgement and volunteering at a housing law clinic.
What has been the highlight of your Freshfields training contract so far?
Accompanying my team to the Royal Courts of Justice to watch weeks of my work (and years of theirs!) play out in a high profile trial.
What has been the biggest challenge during your Freshfields training contract so far?
The biggest challenge has been transitioning from an academic world to a more practical world where essays are eschewed in favour of succinct and easily accessible advice.
Why do you think it is important to be commercially aware as a trainee?
Commercial awareness is crucial for any trainee solicitor. Freshfields provides added value to our clients by helping them achieve their business aims. We must therefore be sound business advisers as well as legal experts.
What are your top five tips for making the most out of your Freshfields training contract experience?
Be proactive. Think about how your task fits in with the wider project and what you could usefully do before being asked.
Refine the art of taking a clear brief. This saves time and leads to a much more useful finished product.
Sync your style with those around you. Try to adapt quickly to working with new teams and individuals.
Have fun and be friendly. Establish good relationships with your PA, IT support, knowledge lawyers and document specialists is vital. You will only be at your most effective with the help of these people.
Don't be afraid of making mistakes. Stay calm and embrace failure as a means of learning and progressing.