Published on September 7, 2020 by Holly Porter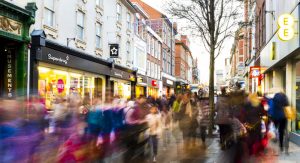 What's been happening in the commercial world in the past week? Read on to find out!
The Future of the High Street Remains Bleak
With the rise of e-commerce, high streets have struggled for nearly a decade. In mid-2015, the number of retail closings overtook retail openings. This trend has continued since. Last year alone, high streets saw the closure of 716 banks, 636 pubs, 448 estate agents and almost 300 post offices. It is estimated that the closure of fashion outlets exceeded several thousands with even household names such as Debenhams and the Arcadia Group, which owns Topshop, announcing dozens of store closures.
2020 started with 9.8% of shops vacant. This figure had risen to 11% in July and is expected to almost double in the coming weeks due to the irreversible blow delivered by COVID-19. Currently, vacant premises on UK high streets stand at a six-year high and the Confederation of British Industry has warned that city centres are at risk of becoming ghost towns. Closures have hit chains such as Poundland, Toys "R" Us and Mothercare hard as well as high profile restaurant groups such as Gourmet Burger Kitchen, the Prezzo Group and Jamie's Italian.
Read more on the commercial impacts of COVID-19 on the casual dining market.
High streets experienced a year-on-year reduction of 40% to their number of visitors throughout August. Similarly, seaside and market towns saw a 24% and 27% drop respectively in the number of visitors compared with the same period last year.
This incites an interesting discussion of changing consumer psychology. City centres, notably London, which has seen a two-third rise is its number of closed outlets, are struggling. Independent shops have enjoyed the commuting drop, with BIRA (the British Independent Retailers Association) reporting positive trading in recent weeks. The CE of the association noted a new-found appreciation for independent retailers spanning the UK's lockdown noting the survival net brought by local suppliers after supermarkets grappled with stockpiling at the beginning of the pandemic.
Talking Points: Do you think that more people working from home may provide a permanent positive change for local shops and independent retailers? Is this the death of the high-street?
---
Sign up to our commercial awareness newsletter for fortnightly updates sent straight to your inbox!
Boost your Commercial Awareness
---
Samsung and Verizon Reach 5G Agreement
This week, South Korean-owned Samsung Electronics reached a $6.6bn deal to build its 5G networks in the US. Samsung will supply wireless telecoms equipment to US-owned Verizon until at least 2025, in an attempt to establish a strong market share.
Who are the main players in the 5G market currently?
Huawei: Chinese company put under US sanctions, followed closely by the UK and India. In 2019, Huawei enjoyed a 28% global presence in the telecoms equipment market. The 2020 figure is expected to show a decline.
Nokia: a crisis in leadership and has struggled to convince shareholders of a strong position. The Finnish telecommunications provider has also seen quality problems with its 5G service. In 2019, Nokia held a 16% market share.
Ericsson: The Swedish telecommunications provider holds a current market share of 14%.
As such, this is a strong play from Samsung and one that may lead to further expansion in the US, Europe and the Middle East, especially as Huawei suffers the effects of a US ban. Samsung holds only a 3% market share but, with the backing of Verizon, this should rise. Executives have set a goal of 20% by the end of 2020, after several years of research focus before rolling out its 5G network.
Talking points: Do you think that the 5G market is diverse enough? What lies ahead for Nokia – last year's second-biggest player by market share?
HS2 Construction Begins
On Friday, construction work began for the controversial HS2 project. Plans for the high-speed railway began in 2009 but discussions over the extent of the project have delayed material progress. The rail project is expected to take 20 years and will link London, Birmingham, Manchester and Leeds – Britain's four biggest metropolitan economies.
The first stage of the project will connect London to the West Midlands by 2029, followed by the West Midlands to Crewe, Leeds and Manchester by 2040. The aim of HS2 is to 'fire up economic growth' (PM Boris Johnson). It is estimated that 22,000 jobs will be created due to the construction and will rebalance the national economy for years after that.
However, the spiralling projected cost from £37.5bn in 2009 to over £100bn in recent estimates is cause for concern. This coupled with environmental and safety concerns has led some to question whether a high-speed rail network is necessary for Britain to 'level up'.
Talking point: What do you think about HS2? Will the benefits outweigh the enormous cost? How will construction impact the government's environmental targets?
Read More: