Published on June 1, 2020 by lauraduckett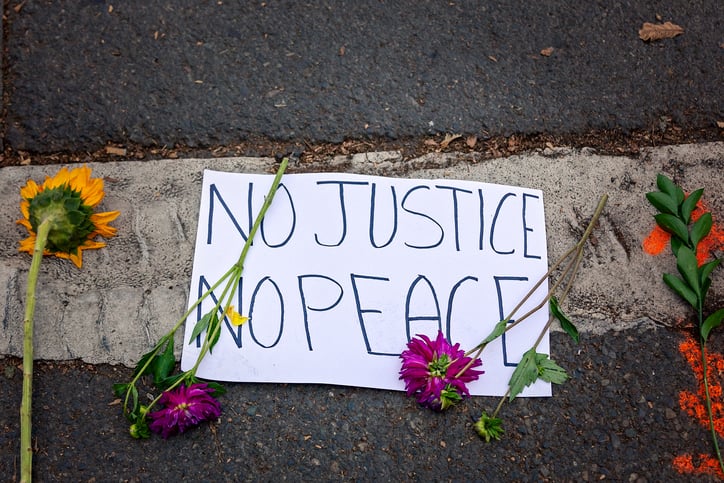 Welcome to The Lawyer Portal Monthly News roundup for May 2020. This month we discuss whether or not MP Dominic Cummings broke new Coronavirus Regulations, Volkswagen loses landmark case, urgent judicial review is being questioned as Government refuses to release Sage minutes, American law firm refuses to pay ransom for hacked data belonging to Lady Gaga and anti-racism and Black Lives Matters (BLM) protests continue following the death in police custody of George Floyd in the US.
Protests Rage on Across US After George Floyd's Death in Police Custody
On Monday 25th May, a grocery store in Minneapolis called the police alleging that George Floyd had paid with counterfeit money. Officers attempted to put him in the police car when Mr Floyd, a black man, dropped to the ground, saying he was claustrophobic. In a video of the confrontation, widely circulated online in the past few days, a police officer named Chauvin pressed his knee on Mr Floyd's neck and his victim is heard saying, "I can't breathe." An autopsy has reported that the police officer had his knee on Mr Floyd's neck for three minutes after he became non-responsive. Derek Chauvin has been charged with murdering Mr Floyd and is due to appear in court on 8th June.
Following this, it has been reported that the US is witnessing the most widespread racial turbulence and civil unrest since the backlash to the assassination of Martin Luther King in 1968. Violence has erupted across the US and curfews have been imposed and ignored in nearly 40 cities. According to Associated Press News, more than 4,00 people have been arrested.
The Floyd tragedy has added fuel into already existing anger over police brutality and police killings of black American citizens. The injustice suffered by George Floyd has been the latest to be associated with the Black Lives Matter movement. #BlackLivesMatter was founded in 2013 in response to the acquittal of Trayvon Martin's murderer. It is a global organisation that seeks to eradicate white supremacy and prevent violence inflicted on black communities. Learn more about the movement or donate.
Dominic Cummings Lockdown Row
A big question in the legal news this month is whether the Prime Minister's Chief Advisor Dominic Cummings contravened Coronavirus Regulations.
Witnesses have reported that they saw Dominic Cummings in Durham after lockdown rules were imposed after having been seen leaving Downing Street just days before.
However, whether or not he was going against the regulations depends on the accepted definition of "reasonable excuse." The regulations do not define the term, but it does provide a non-exhaustive list of reasonable excuses including going outside for exercise and travelling to and from work. The Deputy Chief Medical Officer Jenny Harries has suggested when asked by reporters that an "extreme risk to life" would fit a "reasonable excuse" to break lockdown. The statement from Downing Street reported that Cummings travelled to Durham "owing to his wife being infected with suspected coronavirus and the high likelihood that he would himself become unwell. It was essential…to ensure his young child could be properly cared for."
England introduced regulations making it an offence to leave your home without a "reasonable excuse" and to gather in groups of more than two. Moreover, the Health Protection (Coronavirus, Restrictions) (England) Regulations 2020 gave police the power to return those who refused to comply with lockdown and issue fines.
Volkswagen Ordered to Pay Compensation in Landmark "Dieselgate" Case
Germany's highest civil court has ruled that Volkswagen must pay compensation to a motorist who bought one of its diesel minivans fitting with emissions-cheating software. The ruling provides clarity for how to deal with about 60,000 other cases in Germany.
Volkswagen has paid out more than 30 billion euros in various forms of compensation since 2015 when the scandal began. The company admitted at the time that it had used illegal software to manipulate the results of diesel admissions tests disclosing that about 11 million cars were fitted with the "defeat device."
VW said that it would now offer affected motorists a one-off payment depending on individual cases. Senior employees for VW are facing criminal charges in Germany.
Businessman to Launch Legal Action Against the Government's Lack of Transparency
Simon Dolan will launch action against the government owing to its refusal to disclose minutes of the Scientific Advisory Group for Emergencies (SAGE) meetings which informed the decision to impose lockdown.
Mr Dolan, owner of Jota Aviation, said he has received no satisfactory responses to his challenge over the legality of lockdown sent two weeks ago. He and his lawyers are set to ask the High Court for an urgent judicial review of the background to the lockdown which began in March. His lawyers argue that the lockdown was outside of legal authority as the decision followed the Public Health Act 1984 instead of the Civil Contingencies Act 2004 or the emergency Coronavirus Act 2020.
Dolan has said he believes it "absolutely crucial in holding the government to account" as it has put in place "unprecedented restrictions…yet it refuses to share the basic information it says it relies on to make these…decisions."
Mr Dolan says he is not opposed to the lockdown, but he would like more transparency over Sage advice and other key government advice.
Lawyers acting for Lady Gaga Refused to Pay a $42 million Ransom To Avoid Leaked Files
Law firm Grubman Shire Meiselas and Sacks, which represents a host of music stars including Lady Gaga, Bruce Springsteen and Drake admitted they had been the victim of hackers using software named REvil. Reports from Rolling Stone suggest that the hackers now possess 756 GB of stolen data for which they are demanding $42 million.
After the initial refusal by the law firm, the hackers released 2.4GB of the data, which includes contracts between Gaga her producers and collaborators, online. In a statement about the matter, the firm wrote, "our elections, our government and our personal information are under escalating attacks by foreign cybercriminals. Law firms are not immune to this malicious activity." It goes on to assure it is "working directly with federal law enforcement…to address the situation."
The hackers have made a statement threatening to target US President Donald Trump next.
Words: Alicia Gibson
Missed last month's update? Read it here!
Read More