Published on August 7, 2019 by Lauren Wade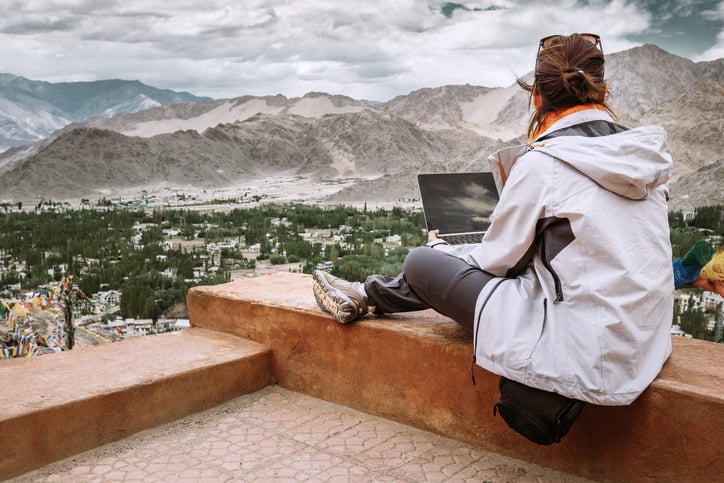 Choosing to study an LLB with a year abroad might not be the obvious choice for law students who are studying such a specific subject. Plus, there already seems to be enough worries on your plate with big decisions coming your way after graduation.
Spending a year studying in another country is definitely a thrilling journey. These are the factors that helped me in making my decision to choose the LLB Law degree with a year abroad.
---
What does the LLB entail, what is the admission process and what grades do you need to study it? Find out all you need to know about the LLB Law Degree with our free guide.
LLB Guide
---
Things to Bear in Mind
A degree with a year studying abroad typically entails a student enrolling for a four year degree, instead of the standard three years. That means you are expected to make this decision before confirming your university choices.
However, there is a way to study abroad without adding an extra year to your law degree if you decide to take this option after choosing your study route.
Going on a 'term abroad' is becoming a popular choice amongst students, as it allows students to be picky in their requirements yet still allow them the choice of an extensive list of international universities.
Make sure you do your research, so that you're aware of all the available choices at your university and that you stay on top of all the relevant deadlines – from a personal experience, self-organisation and time-management is the key!
Pros of Choosing to Study a Law Degree with Year Abroad
"Why do you go away? So that you can come back. So that you can see the place you came from with new eyes and extra colours. And the people there see you differently, too. Coming back to where you started is not the same as never leaving." Terry Pratchett
Going on a year abroad is a promising opportunity to develop a skillset that does not only stretch to career-aspects, but also teaches life-long lessons in adopting a set of transferable everyday skills.
Personal Development
You will enhance your personal development by immersing yourself in an entirely new culture and setting. It will consume you with its challenging, yet unforgettable experiences and help you adapt to changes more easily in the future.
You will be equipped with a new level of independence, confidence, patience, and perseverance that will also benefit you widely in the future.
On top of that, integrating into an international community of students from all over the world and learning a new language will broaden your horizons.
If that doesn't sound appealing enough – you also get to save some money with reduced tuition fees and an Erasmus grant on your year abroad!
Academic Achievement
Choosing to study abroad means choosing to attend a highly ranked university with an impeccable reputation that will boost your academic performance.
Such universities tend to offer a wide range of international modules with an opportunity to study subjects within other faculties too.
This will offer you more of an insight into subjects that you think are necessary for your future career path and the experience of innovative educational approaches with different academic perspectives. As a result, you will find yourself more willing to take opportunities further afield.
Professional Development
It is no secret that language skills and a high degree of cultural awareness are invaluable assets to the world of work in today's globalised market place.
For instance, a VALERA survey showed that 75% of respondents indicated that their current employer would be more likely to offer a job to someone who had previously studied abroad.
This is due to intercultural competence and a willingness to be internationally mobile is seen as very appealing by modern employers.
Read Training Contracts: Advice for Aspiring Solicitors
Cons of Choosing to Study a Law Degree with Year Abroad
Studying abroad is definitely not for everyone! The hurdles of moving to a different country, or even continent, can be daunting for someone who is not ready to leave their comfort zone and absorb a different culture, teaching methods and legal jurisdiction.
Cultural Shock
Be aware that the further you go, the harder it could be to adjust. If you decide to live in a country far away from home, be ready to face the shock of an unfamiliar way of living and social norms.
Cultural shock can come in waves, or different phases, e.g. honeymoon, frustration, adjustment and acceptance. At first it will seem to be an effortless and exhilarating experience, but just like with most life experiences, there will be highs followed by lows of frustration and difficulty in adjusting.
Academic Adjustments
Moving countries and changing to a different university means you must acknowledge certain possible risks, such as receiving a lower average yearly grade or even failing a year.
Therefore, make sure you familiarise yourself with relevant teaching and grading methods of the country you are choosing to study in.
For instance, oral examinations are very popular in Italian educational institutions to help students develop verbal communication skills, so choose wisely!
Different Legal Jurisdictions
Whilst studying abroad gives students an opportunity to successfully compete in the job market, there are nuances to think through.
It is argued that some skills acquired by students on their year abroad do not fit in with a constantly changing labour market at home. This means that students will be less familiar with legal procedures of their home country.
For instance, students who solely studied civil law on their year abroad might seem less appealing to the UK's Magic Circle and Silver Circle law firms.
Similarly, a student who picks solely international modules on their year abroad but wishes to work for law firms, such as Slaughter and May, will be less likely to succeed in UK-focused firms.
Read 5 Types of City Law Firms You Need to Know
As you can see, there are many pros and cons to choosing to study abroad as part of your LLB law degree. Ultimately, it's up to you to consider your individual circumstances and to know how far out of your comfort zone you would feel able to go, but we hope the advice above is helpful and factors into your decision-making.
Words: Veronika Gorodnicka
Read More: