The Watson Glaser critical thinking test is designed to assess your skills as a lawyer and plays a significant role in determining your eligibility for further stages of the application process for a training contract at Hogan Lovells. In this article, we will provide an overview of the Watson Glaser test for Hogan Lovells, explore how you can prepare for it, discuss what to expect, and shed light on the desired score.
About Hogan Lovells
Hogan Lovells is a global legal firm that was established in 2010 following the merger of two leading law firms, Hogan & Hartson and Lovells. With over 2,500 lawyers spread across more than 45 locations all over the world, they are one of the most prominent international law firms.
The firm has a wide range of expertise and offers services in areas such as corporate and finance, litigation and dispute resolution, intellectual property, employment and benefits, competition and antitrust, tax and real estate. They have extensive experience advising clients in major industries like energy & infrastructure, technology & communications, life sciences & healthcare, automotive & transport amongst others.
Hogan Lovells is committed to making a positive impact in their communities and have launched various initiatives to promote diversity and inclusion within the firm. They have also implemented mentoring programs for staff members at all levels of seniority to help them develop professionally.
Hogan Lovells Training Contract
Hogan Lovells offers a comprehensive training contract program for aspiring solicitors, providing an excellent opportunity to gain hands-on experience in different practice areas. The program consists of four six-month seats, in which trainees will be given real work on client matters and the chance to attend networking events and client meetings.
By the end of the program, trainees will have been exposed to a range of legal practice areas and gained valuable insight into their chosen field.
The training contract also involves taking the Watson Glaser Test. This assessment evaluates key skills such as critical thinking, problem-solving and decision-making abilities – all essential for success in many roles within Hogan Lovells.
The test helps determine if a candidate is suitable for the role they are applying for and it provides employers with insight into how an applicant may handle pressure during their career at Hogan Lovells.
Application Process
The application process for training contracts at Hogan Lovells is relatively straightforward. Prospective trainees need to submit an online application which includes a personal statement, CV and academic transcript.
The application deadline for the 2024 and 2025 intakes is 31 January 2023, and for the 2025 intake is 31 July 2023. Successful applicants will then be invited to attend a virtual assessment day. Once accepted, trainees will be required to study the Postgraduate Diploma in Law at BPP University Law School prior to starting their contract.
What Is The Watson Glaser Test?
The Watson Glaser test has been used since the 1920s as an effective measure of critical thinking skills. The Watson Glaser test is a widely used critical thinking assessment that evaluates an individual's ability to analyse, interpret, and draw conclusions from complex information.
It consists of various sections that assess skills such as drawing inferences, recognising assumptions, making deductions, interpreting information, and evaluating arguments.
The test aims to measure your ability to think critically, solve problems, and make sound judgments – all essential qualities for a successful legal career.
Watson Glaser Test for Hogan Lovells
Hogan Lovells incorporates the Watson Glaser test as an integral part of their application process. Upon submitting your online application, you will receive an invitation to take the test within 48 hours.
You will have approximately five days to complete the test, providing ample time for preparation.
Watson Glaser Test Structure
The Watson Glaser test for Hogan Lovells consists of 40 questions divided into five sections, each focusing on a specific critical thinking skill. These sections will require you to draw inferences, recognize assumptions, make deductions, interpret information, and evaluate arguments. It is essential to carefully read and understand the instructions for each question type to answer them accurately.
These questions involve analysing a passage of text and determining if a given deduction logically follows or not.
In interpretation questions, you will evaluate a paragraph of information and decide if a series of conclusions can be reasonably drawn from it.
Here, you need to identify the assumptions presented in a statement and determine if they are explicitly stated or not.
Drawing on your critical thinking skills, you will assess the validity of inferences made in a given scenario, categorising them on a sliding scale of truthfulness.
This question type presents a contentious scenario followed by a series of arguments, which you must evaluate based on their strength rather than their correctness
The test is timed, with a duration of 30 minutes. It is recommended that you manage your time effectively, keeping track of the remaining time and avoiding getting stuck on individual questions. Remember, the test assesses critical thinking abilities, so rushing through the questions may result in overlooking crucial details.
Watson Glaser Test Prep
Preparing for the Watson Glaser Test is crucial for candidate aspiring to secure a training contract with Hogan Lovells. To increase your chances of success, it is indispensable to familiarise yourself with the format and thinking required in the Watson Glaser test.
Fortunately, there are numerous online resources available to help you effectively prepare for the test:
By using these resources and practising regularly, you can familiarise yourself with the test format, improve your critical thinking abilities, and increase your chances of success in the Watson Glaser Test for Hogan Lovells.
Remember, preparation is key, and investing time and effort into practice will significantly enhance your performance and give you a competitive edge in the application process.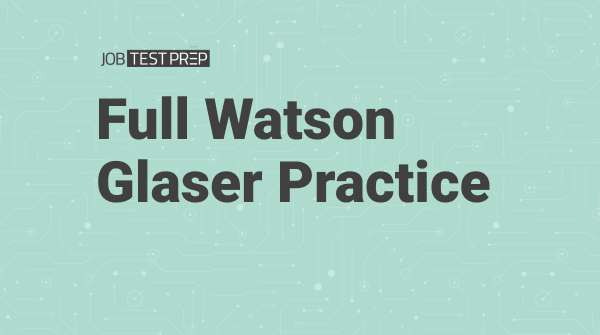 What Score Do I Need?
The required score for the Watson Glaser test at Hogan Lovells is not publicly disclosed. While this depends on each role available, generally a good score would exceed 70%.
Fortunately there are practice tests available online so applicants can become accustomed with how the test works before taking it officially. This gives applicants an opportunity to gain insight into what questions will be asked during the assessment so that when they take it officially they're prepared for success!
However, it is advisable to aim for a high score to increase your chances of progressing to the later stages of the application process. Strive to perform at your best and showcase your critical thinking skills, as a strong performance in the test will undoubtedly enhance your application.
Conclusion
The Watson Glaser test is a vital component of the application process for training contracts at Hogan Lovells. By adequately preparing for this critical thinking assessment, you can demonstrate your analytical abilities and enhance your chances of securing a coveted position at this prestigious law firm.
Remember to practise, stay focused, and strive for excellence in your test performance. Good luck on your journey towards a rewarding legal career!