Should You Study Abroad?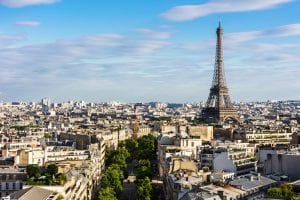 As part of my degree, I spent a year abroad studying French Law in Paris. Whilst this involved strolling through Jardin du Luxembourg during study breaks and eating crêpes for lunch, it was also the most academically challenging year of my degree.
Was it worth it? Undoubtedly. Would I do it again? Yes.
I chose to study at Université Panthéon-Assas, a prestigious law school in France. However, the privilege of attending such a great university came with an intense work schedule and there is much less student support as compared with UK universities. But before I put you off completely, lets talk about some of the benefits I gained from my year abroad.
Why Study Abroad? – Improved Work Ethic
My year abroad had a profound effect on the way I study and the way I approach my studies – which stood me in good stead for final year.
Experiencing a different education system taught me how to approach my work from a different perspective (and the French are certainly keen on methodology and structure). For example, French legal essays are written in the form of a two part plan: the essay is divided into two parts, and each of those parts is sub-divided into a further two parts. Although most of the time it feels like playing Tetris, there is method to the madness and the purpose of the two part plan is to ensure proper structure, succinct arguments and to avoid repetition.
Studying in a foreign language means everything takes twice as long. Fact. However, this taught me to become more efficient, especially when having to read long textbook chapters. My personal tutor said to me that there is a marked difference between final year students who have done a year abroad and those that haven't, and I am honestly extremely grateful for the extra year that I had to develop and mature my skills.
Plus, it was interesting to learn a civil law jurisdiction and draw distinctions and similarities between the UK's common law jurisdiction. This certainly helped in my final year when I wrote a comparative law dissertation on the protection of human rights in France and the UK.
Why Study Abroad? – Improved Language Skills
Immersing yourself in another country and it's culture is the best way to improve language skills. At first, it's exhausting. Your brain works overtime to tune itself into the language but, in the end, it honestly pays off. Give it a couple of weeks and you'll be able to understand the lecturers ramblings perfectly and with little effort.
When it comes getting on the career ladder, knowing another language to professional proficiency is another string to your bow and it's not just big city firms that will value this. Even medium sized private client firms need translators, for example when dealing with personal injury claims where the client suffered injury abroad.
Why Study Abroad? – Life Lessons and Character Building
Increased confidence and maturity from your year abroad will not only apply to your academic life. Moving away for university is one thing, but moving to a completely different country on your own is a whole different story, and your year abroad will teach you a lot of great life lessons but it will also trip you up at the same time.
For example, apartment hunting in Paris is a life lesson in itself. High demand and high prices means people get desperate and when faced with the possibility of being homeless in a foreign country, I have known friends who had to pay hundreds of euros upfront only to excitedly arrive at their new home to find it doesn't exist. You live and you learn…
Why Study Abroad? – The Downsides
As much as I can advocate a year abroad, I understand that there are also financial considerations to be had. I am extremely grateful to have studied abroad under Erasmus, which meant I got student finance to help with tuition fees and living costs (Paris is not cheap). Of course, in the wake of Brexit, the future of Erasmus is uncertain at best. However, if you can make it work financially then I promise you a year abroad is worth it.
I appreciate that I can only speak from my own personal experience and going from the UK to France was not a shock, especially as I already knew Paris very well. However, a friend of mine (a language student) spent her year abroad studying in Brazil and even being as open minded and adventurous as she is, she found the culture shock to be quite difficult.
Ultimately, the best advice I can give is to have an open mind, prepare and plan for things to go wrong and be ready to embrace change, because taking a year abroad is an extremely rewarding experience.
Published: 12/12/17 Author: Cassie Oates
Want to learn more about studying law? Take a look at our free guides to: