Published on January 29, 2019 by Maria Correa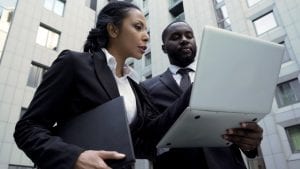 'Legal technology' essentially means the use of technology and software to provide and aid legal services. The developments present an opportunity for numerous reputable firms trying to make improve overall efficiency in order to adapt to a progressively popular agile working environment.
However, legal tech also allows smaller firms and sole practitioners to compete with the leading names in the field, giving them access to powerful research tools. High street firms struggling to acclimatise their practice are already falling behind, and so the rise of legal tech has substantially influenced the contemporary legal market.
---
Sign up to our commercial awareness newsletter for updates sent straight to your inbox!
Sign Up to Boost Your Commercial Awareness
---
How is the government investing in legal tech? Click here to find out.>>
What Is a Legal T

ech I

ncubator?
Numerous established law firms have already introduced forms of legal technology incubators by launching their own space for the rapidly-increasing legal start-up market in the UK.
These include the likes of magic circle firms Allen & Overy (with their legal tech incubator 'Fuse') and Clifford Chance (with their legal tech incubator 'Create+65'), alongside Mishcon de Reya with their programme 'MDR LAB' and Barclays bank that also launched a new incubator in partnership with the Law Society.
Incubators are designed to bring great success to their corresponding companies. However, incubators require more than just space and positive intentions.
While that is important, a successful incubator must also be focused on specific challenges faced by firms. This can be through providing human and technical resources and mentorship. Successful incubators require meticulous planning with a combination of expertise with technical focus, organisational skills, and access to consumer opinion to solve problems faced.
Could AI technology be dangerous? Click here to learn more.>>
What Are the Greatest Legal Tech Companies in the World?
According to the Financial Times, the top five legal tech companies in the world are as follows.
Relativity, founded 2001

:

H

as

technology used by lawyers to store, index and search

various

documents, automate contract review, due diligence and regulatory work

.

It's u

sed by

almost

all the 200 biggest US law firms by revenue. Law firms and corporate legal departments have hired Relativity experts to build their own internal

eDiscovery

departments

and

created new businesses in partnership with

them

.

Apttus, founded 2006

:

Th

is

management software has changed the way companies manage sales processes and contracts, removing the need for lawyers to be involved at every stage.

Everlaw

, founded 2011

: Relatively easy to

use

and its speedy abilities

have helped

Everlaw

expand

their

market share and

they

allow

lawyers to work collaboratively to build arguments for litigation cases together.

HighQ, founded 2001

:

Th

is is

used by

over half of

the top 100 global law firms and by professional services firms and company clients.

iManage

, founded 1998

:

Th

is has become the essential

tool for document

management at law firms,

and is

also used by other professional services

.
Want to know more about top legal tech start-ups? Click here.>>
How Could Developments in the Legal Tech Industry Affect the Law Profession?
Undoubtedly, developments in the legal tech industry is bound to bolster not only departments within such law firms, but also their overall reputation as discussed earlier. Law firms recognise the greater working efficiencies and cost savings attached with legal tech.
A 2015 PwC report showed that improving the use of technology was the top priority (94%) in law firms in the following year. However, it's arguable that these developments could replace many parts of a lawyers job with technology. Legal tech trends include the likes of Artificial Intelligence, Cloud computing, Big Data and legal research and Automation.
Looking for job opportunities in law? Click here to search in our Deadlines Calendar.>>
What Are the Hottest Legal Tech Start

-U

ps in the UK?
The UK is home to global leading legal tech centres, with more settlements taking place in London than in any other city. Britain's legal sector's global appeal is partially in consequence to the popularity of English law.
Some examples of our successful legal tech startups include:
Luminance, described as the Artificial Intelligence platform for legal profession

L

ibryo

,

describe

d

as a

tool

which

allows any

individual

in any organisation to understand the legal obligations at any place

Lexoo

,

which

provides online access to a

inspected

international network of lawyers. It

also

acts as a

business

marketplace,

allowing

companies

to

compare and

re

cruit

lawyers

CrowdJustice

, which

is a crowdfunding platform for public interest litigation

Alacrity

, a web-based platform which

says its

goal

is to 'create technologies which enhance the relationship between corporate and law firms to improve service delivery

'
Want to know more about legal tech? attend BPP University's webinar to find out more:
Find Out More About legal tech
For more interesting articles, go here: