Published on July 30, 2020 by Lauren Wade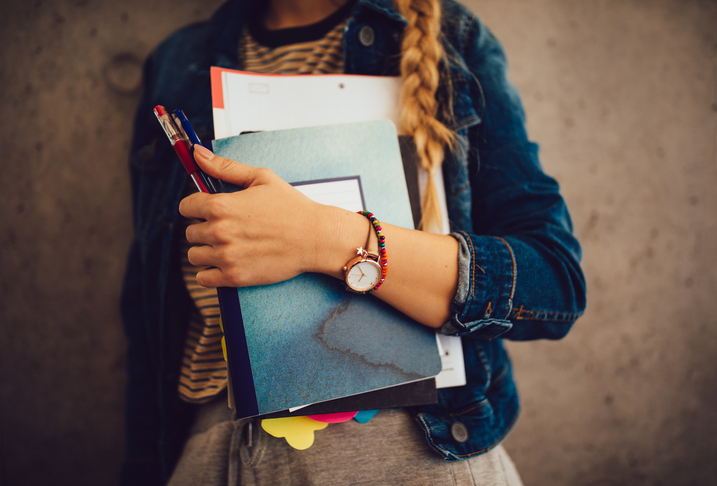 From your first class as an A-Level law student you will soon realise that studying law is hard. As an A-Level law student, I can confirm this is true – but that shouldn't be a deterrent.
Law is an extremely rewarding subject and by taking this at A-Level you develop skills which help you during your LLB degree and potentially lead you to top positions in the legal field.
Going into your first year of studying Law can be daunting – but here is a rundown of what you can expect going into the course.
---
Receive free, tailored information for your aspirations and stage straight to your inbox and be the first to know about new, free events.
Sign-Up Now
---
The Curriculum
Across the different exam boards, there are four main topics of study. These are:
The nature of law
The English legal system
Law Making also features throughout the curriculum, as well as a choice between Law of Contract and Human Rights Law.
How A-Level Law Students are Assessed
A-Level law is a linear qualification, meaning that the exams are sat at the end of the course. This means that any topic in each section over the two years of teaching may appear on the exam paper.
How to Boost Your CV in First Year
Exam Structure
Across all three of the main exam boards, A-Level law students must sit three individual papers.
Each of these papers are divided up into two separate sections – section A and section B – these are weighted in percentages of 25% for section A and 75% for section B.
The maximum marks for each paper that can be awarded are 100, so section A of each paper is worth 25 marks and section B of each paper is worth 75 marks.
Question Structure and Exam Marks
Across the exam boards, there will be essay-based questions and shorter answer questions. The essay questions typically range from 25 to 30 marks, these require weightier analysis and application of the relevant law from a scenario evaluation and reform proposals of a certain aspect of the law.
There will also be shorter answer questions, that range from approximately 5 to 15 marks. These are typically focused more on the application of the law.
Less common would be the inclusion of one mark multiple-choice questions. These appear more so on AQA papers, and require you to select the correct answer following a statement of true or false, or a question about a particular aspect of the law.
Assessment Objectives
There are three assessment objectives (AOs) that are incorporated into the exams, and these measure knowledge, application and analysis.
AO1 explores the demonstration of knowledge and understanding of the English legal system and the subsequent legal rules and case principles.
AO2 focuses on the application element, particularly in scenario-based questions, and looks to assess the application of legal rules and principles to scenarios – alongside the use of legal vocabulary.
AO3 embodies evaluative components and the analysis and evaluation of such legal concepts.
How A-Level Law Students Can Prepare for the Course
A-Level law is a course that contains a lot of content, it covers many topics and requires plenty of revision and active learning to do well. The following are a few aspects that will help you in preparing for the course.
Prior Reading
If you are aware of the exam board that you will be with, it is a good idea to further research the exact details of the course under this exam board.
The key things to familiarise yourself with include:
The topics that you will be covering
The length of the exams
How much the marks from each paper contribute to the final grade
Recommended law books
The types of questions you may come across in exams
If you are not sure of the exam board that you will be with, you can still research any of the topics mentioned above and read up on the basic legal principles to acquaint yourself with, so you go into the course with a basic understanding of what you will be studying.
Revision Techniques
Establishing a revision technique that works effectively for you before you begin the course is essential.
Whether it's with flashcards, mind maps, flowcharts or Quizlets, the sooner you know what works best for you, the better.
Try to make a few notes or resources on a particular topic that interests you, and try to remember them – this way you can test out revision strategies that work for you, so there is no panic when it comes to exam season, and you also get a head start in knowing some of the content.
Overall, the most important thing of being an A-Level law student is to enjoy it. Engage with the subject, ask questions, share your views in debates and do further reading into the areas of law you love.
Law can open so many avenues – make studying it what you wish it to be.
Words: Jessica Pride
Read more: