Published on July 1, 2020 by lauraduckett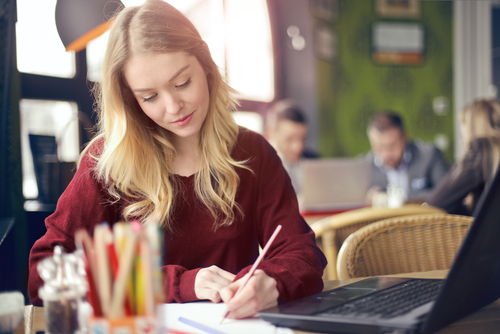 Legal apprenticeships are available to those wanting an alternative route to legal qualification. You can do an apprenticeship to become either a paralegal, a solicitor or a chartered legal executive. For aspiring lawyers debating whether to embark on a legal apprenticeship, here are some benefits and disadvantages of this route.
Watch our Q&A with Maia Crockford, a solicitor apprentice at an international law firm.
Legal Apprenticeships Pros and Cons
Pro: a Cheaper Pathway to Law
Doing a legal apprenticeship will help you avoid the increasingly expensive costs associated with university degrees. As an apprentice, you do not have to pay for your training or study, and you will be paid a salary throughout the scheme. Legal apprentices are held to the same professional standards as those that choose traditional university/LPC routes. This means they are not disadvantaged by following the apprenticeship route and are as competent and skilled as their graduate peers.
Con: Missing Out on the University Experience
While saving on expensive university fees, legal apprentices do not get the full 'university experience' such as the opportunity to join a range of extracurricular societies and to immerse themselves into student social life.
---
Receive regular updates on how to get into law
Sign Up For Free Information Tailored to You
---
Pro: Practical Learning and Exposure
Legal apprenticeships combine academic learning with on-the-job training, helping apprentices develop new and critical skills at an early stage of their career. The practical exposure offered by apprenticeships is invaluable as it allows individuals to develop client relations; network and develop ties with a law firm. They also get hands-on experience which is crucial in improving apprentices' employability prospects as well. Legal apprenticeships, therefore, appeal to different learning styles, particularly those who benefit from practical, on-the-job training.
Con: Lower Starting Salaries
The ability to earn while studying is one of the huge pros of legal apprenticeships. However, legal apprentices earn less than their trainee counterparts. For example, while Addleshaw Goddard pays apprentices a starting salary of £12,000 per annum, they pay first-year trainees £27,500 a year. Bear in mind, however, that the firm is covering all academic costs associated with the apprenticeship. Nevertheless, this may be something to consider when deciding between a legal apprenticeship and the traditional route to qualify as a lawyer.
Pro: Earn While Studying
One of the major benefits of a legal apprenticeship is that it allows paid work alongside academic studying. While salaries for legal apprentices vary from firm to firm, all apprentices are entitled to the National Minimum Wage, although most employers pay in excess of this figure.
Now that you've read about the pros and cons of legal apprenticeships, read more content on the schemes to help you make your decision.
NEW: Downloadable apprenticeships guide for school students!
Wondering about law apprenticeships and whether they're the right path for you? Take a look at our new, free Guide to Law Apprenticeships, featuring everything you need to know about law apprenticeships!
From where you can find apprenticeship opportunities, to how it compares to university, you can find out exactly how to take this route into law.
go to the download page!
Read More: