Published on April 19, 2017 by Laura
Welcome to your weekly TLP news summary. This post covers the main legal news stories from 10th to 17th April. This week's legal news included the green light being given to a challenge on the UK law on assisted dying and a proposed 9,000% rise in probate fees. Meanwhile in the US, the Trump administration has implemented a law to cut abortion funding.
A terminally ill man has won the right to bring a High Court challenge over the law on assisted dying. Noel Conway was diagnosed with motor neurone disease in 2014 and was recently told that he is not expected to live for more than 12 months. Despite telling judges that he faced an unbearable death, Mr Conway lost his case to challenge the law on voluntary euthanasia on the 30th March.
However this week, Mr Conway has been granted the right to bring a case for judicial review over the validity of the UK's law on assisted dying. He will seek a declaration that the Suicide Act 1961 is incompatible with Article 8 of the Human Rights Act, which concerns respect for private and family life, and Article 14, which protects from discrimination. MPs rejected a similar challenge to the law in 2015. If Mr Conway is successful, his case could be the first major step towards changing the UK's legal stance on assisted dying. The story has received support from individuals and charitable organisations as the government has been accused of denying the terminally ill their choice to die in dignity.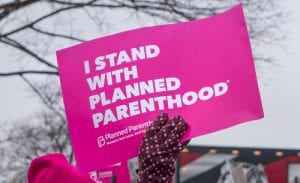 Donald Trump has signed a law aimed at cutting abortion funding. The new law repeals a rule passed under Barack Obama's administration which barred state governments from withholding federal funding for family planning services. As a result, organisations such as Planned Parenthood could see their funding cut in certain states.
Under the new legislation, states will be able to withhold money from any provider that offers abortions. Even now, federal funding is not directly given to abortion providers in the US except in cases of rape or incest, or to save a woman's life. Countless women protested when Donald Trump was elected and this development is leading many to question whether the Trump administration is launching an attack on women's health.
Liz Truss has been criticized for "cashing in on death" as she introduced a 9,000% increase in probate processing fees. The Justice Secretary, Liz Truss has come under fire, particularly from ex-Pensions Minister Steve Webb who stated that there could be no business or managerial reason for the increase. The cost of applying for probate (the process of distributing someone's assets after their death) will increase from a flat rate of between £155-£215, to a sliding scale based on estate values.
This could mean that probate fees could be as much as £20,000 on estates of more than £2 million. However, this increase is likely to affect the mid-value estates the most as it will be charged on top of inheritance tax. Some MPs have labelled the fee hike as unlawful. This latest wave of outrage comes after ongoing criticisms of Liz Truss' decisions as Justice Secretary and has been labelled as a potential way of cashing in on people when they are at their most vulnerable.
Words: Mariya Rankin