Published on March 7, 2019 by Maria Correa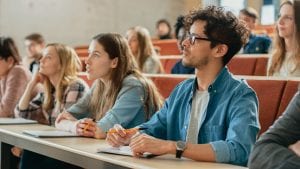 There are a number of things you can do while you're reading law at university that will give your employability a boost. We've rounded up top five activities that you can add to your legal CV, to strengthen your post-university applications.
Each of these five tips require varying levels of commitment, which means that whether you can spare one day a week or just a few hours a term, there's something to suit you.
But remember: it's about more than just box-ticking. These opportunities will give you the chance to develop different skills, deepen your passion for the law, and help round-out your university education with some real-world experience.
---
Take 30 seconds to sign up to TLP and you'll receive free, tailored information for your aspirations and stage straight to your inbox, as well as be the first to know about new, free events – what are you waiting for?
Sign-Up Now
---
Develop Your Skills With Pro Bono
Pro bono work experience will give you the chance to get hands-on experience within the legal sector and engage with clients. It's a valuable way to practice what you've learned while under close supervision, and to give something back to the community.
You can find pro bono opportunities by signing up for your university's law clinic, or seeing if your law society knows of anything you can get involved in. You can also find volunteering opportunities at organisations such as the Citizens Advice Bureau or the Personal Support Unit.
What are the key things you should know about pro bono? Click here for more.>>
Show Off Your Academic Prowess with Essay Competitions
Essay competitions are a great way to demonstrate your academic flair while exploring a legal topic in more detail. You could earn yourself a work experience placement, an internship at a top law firm, or even a cash prize.
This is a particularly important way to boost your employability if you want to become a barrister; the Bar Council reported that chambers look for pupillage applicants that have won an award for something law-related.
If you're a BPTC student, make sure you check The Inns of Court's social media and website, as they hold essay competitions on a fairly regular basis.
Similarly, university law societies often hold a whole host of essay, mooting and various other competitions. But the best way to find essay competitions is to check our list of law essay competitions currently open.
Interested in taking part in an exciting three-week placement with a pro bono team and work in one of Herbert Smith Freehills' global offices? Apply by the 25th of March.
Pick Up Some Extracurriculars
Working on your extracurricular activities is a great way to connect with other students and develop your interpersonal skills. It helps to show employers that you have other interests and are a well-rounded individual.
One way of boosting your employability is to take on a leadership position for your chosen hobby or academic society. This will give you the chance to demonstrate skills in teamwork, leadership and motivation – all of which are crucial skills that law firms look for in trainees and pupils.
Want to learn how to improve your CV at university? Click here.>>
Show Up to Open Days and Insight Opportunities
Attending law firm open days and insight days before applying is key way to gain vital insight to the firm, its trainees and what to expect from your training contract or pupillage. By going to open days, you can start to see the type of firm and environment you might like to work in and improve your commercial awareness.
You'll also get the chance to network with current staff, which will give you an insight into the firm that you simply can't get from reading through their website. If you haven't done so already, make sure you check our law firm open day deadlines calendar to view upcoming events and stay on top of important dates.
What are the best questions to ask on an open day? Click here.>>
Apply to Vacation Schemes and Mini-Pupillages
You'll probably know a lot about this one – if not, check out our free guide to law vacation schemes and mini- pupillage for a quick summary. They are a fantastic way to earn some money during spring, summer or winter and get real insight into the firm where you could be completing your training.
Applications usually open in September and generally close by the 31st January, however, this can vary for smaller firms. If you're thinking about applying next year, you should make a point of starting your research early and noting down all the important deadlines.
Securing a place on this type of scheme will help you to meet other students and connect with the firm on a more personal basis. In fact, some firms even use vacation schemes as part of their interview process, and may offer training contract interviews to the highest performers after their placement is complete.
Likewise, if you intend to become a barrister, a mini-pupillage is a great way to learn more about life at the bar and whether it is for you.
How can the Pegasus Access Support Scheme help you? Click here to find out.>>
Make 2019 your year and achieve the very best by following these five tips!
For more related articles, go here:
Author: Jessica Bognar