Published on February 20, 2019 by Maria Correa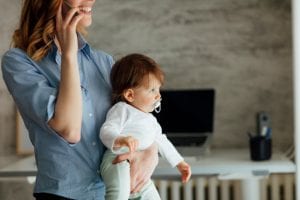 Estimated reading time: 4 minutes, 37 seconds
The simple answer is yes. Whether you're a woman or a man, there is nothing stopping you from being a good lawyer who retains a sole focus on their clients as well as caring for your family.
In this blog, we'll highlight some of the benefits of having a family alongside your legal career as well as busting some myths around why you can't or shouldn't have a family whilst practising law.
Should you work at a regional or city law firm? Click here to find out.>>
Won't it Hold Me back From Being Promoted?
One of the sad truths about the legal profession is that there is a lack of diversity in the highest positions with law firms and the judiciary. Some people would attribute this bad ratio of men to women to the domestic roles women have traditionally taken in society – historically taking time out to care for children or raise a family. However, with paternity leave becoming more common and many women staying in the work-force, this is no longer the case.
Perhaps logically, there is some scope to argue that if you take parental leave during your legal career you won't build up the same level of portfolio as a child-free person might and therefore, the same opportunities won't be open to you. However, it doesn't have to be this way and many firms in this day and age would staunchly reject this as policy. The majority of legal employers allow for maternity leave and fully understand that often family comes first.
---
Take 30 seconds to sign up to TLP and you'll receive free, tailored information for your aspirations and stage straight to your inbox, as well as be the first to know about new, free events – what are you waiting for?
Sign-Up Now
---
Moreover, if you prove that you have worked out a good balance between life and work then this will show a clear determination to do both. Finally, whilst in the past the number of cases held under your belt may have been the deciding factor in promotions, times have changed. More often than not, firms are more interested in finding the best person for the job. This may include the number of cases but will also; efficiency, expertise and work quality – all aspects which don't have to change due to caring for a family.
Looking for job opportunities in law? Click here to search in our Deadlines Calendar.>>
Will it Distract from My Cases?
There are actually two answers to this question. The first one is sometimes – it will be inevitable that on occasion things go wrong, childcare falls through, children get sick, elderly family members need your help and, in these situations, time may need to be taken away from your caseload to work them out.
However, these cases will truly be rare and shouldn't be a reason to avoid having a family. If you continue to be an organised worker, with a clear-cut schedule and your clients in mind these two integral parts of your life can avoid clashing. Not only this but with familial support behind you even the unexpected can be sorted without distracting too far from your clients' needs.
Clients are just people and they usually understand that lawyers are also just people. If you have built up a solid client relationship then there will be a level of understanding in place to avoid your family getting in the way of your cases, and vise-versa.
Want to know what it's like to be a trainee solicitor? Click here.>>
How Will I Cope with Childcare and Long Working Hours/D

eadlines?
This is a personal one, and something which does not have just one answer but many. It is true that depending on the case lawyers can often be said to be on call and may need to work beyond normal office hours to get a job done. This on first sight doesn't look like the type of environment where children easily fit.
As a follow up from the above, if you have strong familial support, they will understand that just as sometimes situations occur when family must come first, other situations arise when a deadline is approaching and some extra time in the office is required. Moreover, some firms often have the availability to let you work from home and finish your deadlines that way ensuring that childcare is not a problem which hinders your work.
How can you look after your mental health as a solicitor? Click here our tips.>>
These are all valid questions and questions which do in reality cause some issues between life and work. But the truth is that these issues could be asked of any profession not merely law and there are ways around them. Additionally, women and men have been working as well as caring for families for decades even centuries proving that if you want to have children or need to care for a relative it does not have to jeopardize your career.
Ultimately, no career should take away from you living your life in the way you want to. You cannot enjoy a career path if you have no work-free time balance. After all, there's more to life than deadlines and long hours. Living a fulfilling life is actually more likely to make you work harder and increase your work quality than it is to decrease it.
For related articles, go here:
Author: Alicia Gibson