3 Reasons Why Law Firms Love Non-Law Students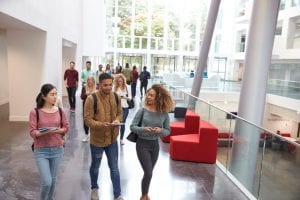 Competition for training contracts is fierce and non-law students can often feel that they are coming into applications at a disadvantage to law students, both in terms of their knowledge and experience.
In short, they are competing against candidates who have known that they wanted to pursue a career in law since they were at school and have accordingly managed to accumulate significantly more legal work experience and expertise.
However, law firms have consistently confirmed that they want applications from a range of candidates and believe that non-law students bring a number of skills that make them an asset. Here is a look at some of the key reasons that law firms like non-law candidates.
---
In the midst of preparing for your training contract or vacation scheme interviews? Book a free ticket now to the ultimate event for aspiring solicitors: the Training Contract and Vacation Scheme Conference!
Book Your Conference Ticket Now
---
1. Diversity
Law firms represent individuals, companies and businesses from a wide range of sectors and industries. In order to attract and retain those clients they need to be able to demonstrate that they have an extensive understanding of their clients' businesses and the environment in which they operate.
Demonstrating this understanding to their clients in turn helps them to gain an edge over competitors and ensure that the firm's business continues to grow.
It is consequently understandable that firms want to ensure that they take trainees from a broad spectrum of academic subjects and professional backgrounds.
If you are able to demonstrate that your undergraduate degree or past work experience has given you an unique insight into a particular specialism of the firm or the work of a valued client, you will undeniably have an edge over other candidates.
2. A Unique Perspective
A law firm is a business, and it is widely accepted that businesses need a range of perspectives and ways of thinking in order to be successful in the work that they do.
The abilities and skills that different undergraduate degrees develop can prove useful to the everyday tasks of a solicitor and ensure that firms take on trainees whose skills and abilities compliment each other.
For example, the logical way of thinking promoted in mathematical and scientific degrees can prove invaluable when trainees are required to analyse huge amounts of information, convey it clearly and concisely in legal documents and communicate it to clients in a way that is accessible to them.
Alternatively, the research skills developed throughout a history degree are helpful in the research tasks integral to the everyday life of a trainee.
3. The Demand for Language Skills
Many of the larger law firms have offices around the world and a clientele that reflects their international identity. They consequently welcome applications from foreign language undergraduates.
Having trainees who speak a second and even third language provides an opportunity to both impress clients and expand their presence around the world.
In conclusion, law firms are looking to attract applications from a diverse range of candidates and the fact that you come from a non-law background does not necessarily harm your chances of being selected.
As long as you are able to show that your previous experience has equipped you with a range of transferable skills that will make you an asset to the firm, you can even use it to your advantage in your applications.
Published: 06/02/18 Author: Hannah Capstick
Non-Law Student/Graduate in Need of Some Info? Take a Look at These: