Published on April 18, 2018 by isabellaford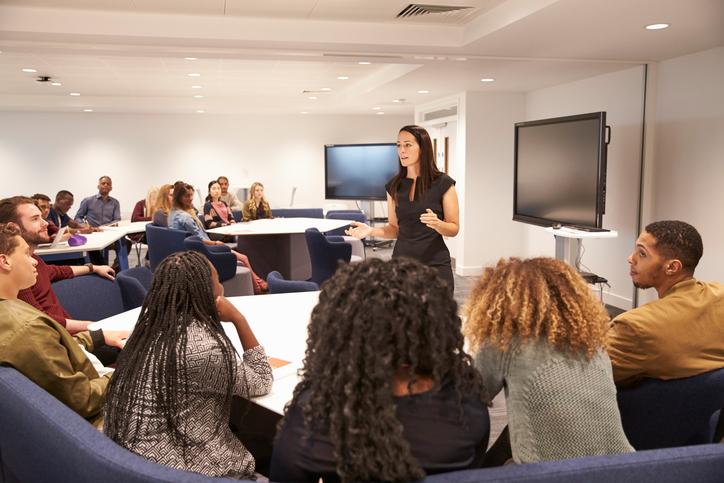 Interviews are something everyone has to endure at some point in their lives, but for law students it is inevitable – whether it's an interview for a training contract or a vacation scheme.
As a law student myself, I always take up any opportunities where I can learn valuable tips to improve; of course, the only way to learn how to cope with interviews at an interview is to practice.
When I heard that my university was holding an exclusive lecture by a former Magic Circle firm partner on how to impress at a legal interview, I jumped at the opportunity to attend.
Who better than a partner who conducts the interviews to tell you how to increase your chances of succeeding in one?
Below are some of the first-hand tips I learnt.
NOTE: If you're not quite sure who the Magic Circle are, they're basically the five of the biggest UK-based law firms, and are considered five of the most prestigious firms in the world – read more about them with our Magic Circle Law Firms: The Ultimate Guide here!
Magic Circle Interview Tips: Preparation for the Interview
Preparation is key for succeeding and the interviewer will be able to distinguish which candidates have prepared and who have not. The partner giving the lecture gave the following points on how to prepare best.
Consider potential questions and answers
In preparation, it is important to spend some time thinking about the potential questions that they may ask you. Some of the obvious questions the partner mentioned in the lecture to have in mind included:
What do you enjoy about law?

Which area of law are you most interested in?

What type of firm are would you like to work in?
Although it is extremely helpful to put some thought into how you would answer the questions, it would be wrong to have them written out and learnt word-for-word.
This will only put you at a disadvantage as some of the questions will be designed to challenge you and get you thinking. Therefore, if you try to answer using a pre-phrased answer, it may turn out to be irrelevant to what they are asking.
Overall, it is worth considering answers, whilst also keeping an open-mind in the interview.
Want a little more insight into the different areas of law? Take a look at our free guide here!
Remind yourself of your CV and covering letter
Prior to the interview, make sure to read your CV and covering letter through numerous times to ensure that when you answer questions you can tie in any of your own experiences and explain what you learnt from them.
By going over your CV and covering letter, you may anticipate some of the elements they might quiz you on (linking back to the point made earlier about anticipating potential questions and answers).
Commercial Awareness
Being commercially aware is absolutely crucial, not only for interviews, but in general. To be commercially aware, one must have a good general knowledge of business.
It is likely they will ask you about any current commercial news and get your opinion on it; you may even engage in a debate-like discussion with the interviewer.
The interviewer simply wants to see that, outside of your degree, you have done extra work; thus, showing a genuine interest in the law and what impacts firms. You may specifically want to read about any current commercial news specific to the firm to bring up in discussion.
You can hone your commercial awareness by reading the news or by reading TLP's new How to Discuss series – take a look at the articles here:
Research the firm
This is a given, but again extremely significant; by simply browsing the website you can gauge what the firm is looking for, the dynamics of the firm, the lawyers who work there, the firm's history and achievements etc.
By doing this simple task, you are enriching yourself and giving yourself more to talk about.
Moreover, it shows your eagerness to be a part of the firm. If they ask you, for instance, 'why did you choose to apply for our firm?' you can draw upon anything you learnt from the website and tell them what you learnt and subsequently valued.
Want to find out more about researching a firm effectively? Read our popular blog post 4 Essential Law Firm Research Strategies!
Research interview proceedings
Before getting to the interview, make sure to understand the interview process so that you do not have to worry about being faced with anything you do not expect.
Definitely start by reading over our Training Contract Interview guide here.
Magic Circle Interview Tips: Interview Day
The partner then moved on to talk about the interview itself, focusing more on conduct, professionalism and how to come across as a suitable candidate. They gave a step-by-step run through of how the experience will go and how to deal with each part.
Arrival
Punctuality can show the interviewer that you are reliable – being late for an interview will almost immediately fail you. Thus, it is vital that you arrive well before your set interview time.
Not only will this give off a good impression, it will give you time to gather your thoughts, calm your nerves and get used to the environment. If you arrive early, be sure to visit to the bathroom beforehand, to ensure that you are fully focused!
Introductions
When you meet the interviewer(s), it is important to introduce yourself, and shake their hand firmly – a handshake can surprisingly have an impact on their first impressions of you.
If necessary to avoid silent gaps (perhaps when walking to the interview room, or in the first few moments of sitting down), do not be afraid to make small talk; this will ease you into the interview and instantly make it less like an interview and more like a discussion or a conversation.
Moreover, it shows your confidence; something that interviewers enjoy seeing in candidates.
Despite this, remember to still be formal and respect who is interviewing you. When you get inside the interview room (and after introductions), listen out for any guidance such as where they would like you to sit.
During the interview
Just before the interview commences, you might be offered a refreshment; if they do, you should accept it. However, the partner gave some odd yet useful advice on this: try and stick to water which is normally served in a glass and therefore easier to handle.
They argued that if there is tea or coffee, it might be served in a cup and saucer; in which case, you should avoid this because it is too fiddley. The last thing you want to do is spill something. Furthermore, water is better for when you are nervous.
The key piece of advice the partner gave, regarding the actual interview itself, was to stay focused. Being focused shows that you are good at listening and that you are engaged.
Staying focused should also divert you from fidgeting, something which many people tend to do particularly when they are nervous. Fidgeting can be distracting for the interviewer(s) and highlight your nerves; thus, making you seem less confident. To avoid fidgeting, place your hands in one place and try not to move them.
Body language is key as well, so tying these points together, it may be good to sit up in your seat and place your hands together, resting your wrists on the table, or resting your hands on your lap.
Eye contact is also a necessity for interviews and will again, show your focus and engagement. If there are multiple interviewers, make sure that you look at all of them equally so as to not appear impolite.
When you are answering the interviewer(s), speak clearly and project energy. The interviewer(s) might have been sitting in that room for the whole day; not only will it make you more of an ideal candidate, it will make the interviewer a lot more interested.
If you have a positive and enthusiastic energy, you are more likely to be remembered and it will demonstrate your eagerness and hunger for the opportunity. Enunciating your words instantly showcases you are interested as it makes you sound alert.
---
Still not too sure what the Magic Circle is? Or perhaps know exactly who the Magic Circle are and want a training contract with one of them? Read one of our most popular free guides – Magic Circle Law Firms: The Ultimate Guide – here!
go to the ultimate magic circle guide now
---
Magic Circle Interview Tips: Things to Be Aware of
Interviews tend to test:
Whether you are able to clearly express you are thoughts;

Your power of persuasion;

Your ability to defend a position;

Whether you are able to defend a view point;

Whether you can explain a point to a client.
Magic Circle Interview Tips: How to Deal With…
Difficult questions
The interviewer wants to challenge you to understand how you work in difficult situations.
If you encounter a hard question, just make sure you answer as best as you can and the key is to not start panicking! If you need a few seconds to think about it, simply ask 'could I please have a few seconds to think about this' – this will show that you are thoughtful and that you want to answer the best that you can.
If you do not feel like doing this, an alternative could be to take a sip of water just after they ask the question; this will help stall.
Another tip for dealing with difficult questions is to divert to a close alternative – maybe you had considered a similar question that you can talk about with more ease. Answering this way can show that you have thought about the topic, just in a different way.
Moulding the question to how you want answer is absolutely fine, as long as it's relevant, it can show that you are assertive, creative and yet again, thoughtful.
If you're worried about difficult questions, the best thing you can do is prepare for the worst-case scenario! Take a look at our blog post 4 Hardest Interview Questions and How to Answer Them here!
Competency questions
The interviewer might ask you something to test your competency, and understand your skills and mind-set, by asking questions about your attributes.
Although there is no correct way to answer, the best way to prove to the interviewer you have a certain skill is to give an example of a situation you have been in and how you dealt with it. A logical technique to use is the 'STAR' approach:
S

ituation: Describe the situation

T

ask: What you had to do- the problems and challenges you faced

A

ction: What action you took, how you dealt with it and solved issues

R

esults: What the outcome was, the benefits and the impact of your actions.
Magic Circle Interview Tips: Asking Questions
At the end of the interview, the interviewer(s) might invite you to ask questions, in which case you should. You can prepare your own questions before the interview – pssst take a look at our 5 Best Questions to Ask at the End of an Interview blog post here – or you may want to ask about something the interviewer mentioned in the interview.
Asking more than one question will show your interest in the firm, indicating that you want to know more. Again, it further highlights your confidence, in particular if you ask a challenging question for the interviewer(s) themselves such as 'What is the life of a solicitor like?'.
The partner even mentioned that on one occasion, someone asked them: 'What gets you up in the morning?'. These kinds of questions show your uniqueness, and make you easily remembered.
Questions to avoid asking include those that you can find the answer to on the firm's website; this will only imply a lack of preparation and limited knowledge on the firm.
Furthermore, do not ask questions such as 'what is your life to work ratio?' and 'how much money do you earn?': these are risky because although interesting questions, they may show the interviewer that you have the wrong intentions.
I hope these tips help you in your next interview – good luck!
WAIT – you need more interview help right? Here are some great articles to lend you a helping hand:
Published: 18/04/18 Author: Priya Luharia