Published on October 22, 2018 by ottohopkinsfagan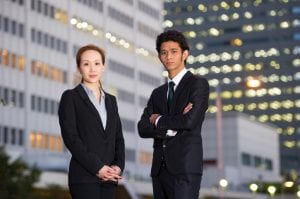 With the legal landscape of the UK changing towards a more globalised economy, it is perhaps a good idea to discuss law opportunities working abroad. In this article, we look at what it's like to be an English paralegal working in China.
---
Take 30 seconds to sign up to TLP and you'll receive free, tailored information for your aspirations and stage straight to your inbox, as well as be the first to know about new, free events – what are you waiting for?
Sign-Up Now
---
What is an English Paralegal?
When talking about an English paralegal, what I am referring to is my experience being a paralegal who has worked in English law firms, having a grounding in legal education but yet to qualify as a lawyer in England and Wales. This could also potentially include current undergraduate law students.
Want to know about becoming a Paralegal? Then check out our FREE guide here. >>
What is Like to Work as a Paralegal in the UK?
As an English paralegal you get the chance to work on a number of different cases, however the level of involvement and seriousness of the case is limited based on the individual's own experiences. In general though I was expected to:
Be exactly on time for work

To work a full day's shift with set breaks

To work on generally administrative and potentially repetitive material

To go home between 6-7pm

To eat at the office canteen
What is Life Like in as a Paralegal in China?
In contrast to my above experience in a British law firm, my Chinese regional law firm experience involved the following:
You were expected to arrive at work around 9-9:30 am

To go home when your work for the day was finished

There was no culture that working late guaranteed promotion

If you were tired at work it was perfectly reasonable for you to put down your head on your desk to rest

There was no emphasis on office attire like suits unless clients were coming into the office

You were allowed to have a one hour lunch break, followed by a 1 hour nap before starting work again

There was no emphasis on eating at an office canteen instead you could mix with anyone in the office and go out to lunch

At the start of each month on a Friday the firm celebrated the birthday of everyone within that calendar month and welcomed all new members staff to the team

Senior partners take out juniors for lunch or dinner

From day one you were working on high level English cases
Do you know about the Chinese Cyber Security Law and how it relates to GDPR? Find out more here. >>
How Does English Life Compare?
There were other differences to the ones listed above but those mostly related to life outside of the office. With that being said the experience was in some respects similar to working for a UK based legal charity rather than a city or high street law firm.
That being said, some of the top British law firms support their staff in ways that even the best Chinese law firms fail to do. These include:
Time trackers to keep track of billable hours

Office canteens

Gyms and free memberships

Sleeper pods to encourage late night working

Higher pay
Is it Worth Getting International Experience?
Having worked now in two continents, I can say the experience is worth having. It was definitely easier to work in China than it is in the UK. The pace of life is more relaxed, the office environment is friendlier on average but on the other hand, there are fewer additional perks and the salaries are much lower.
Similar to the firm I was based in, many Chinese law firms practice internationally. This means that you are able to parlay your experience and education in the British legal system into a different role abroad. If you are struggling to find work that suits you in the UK, then it may be worth looking elsewhere abroad for other interesting opportunities.
Find out more about law work experience here: