Published on June 5, 2019 by Halimah Manan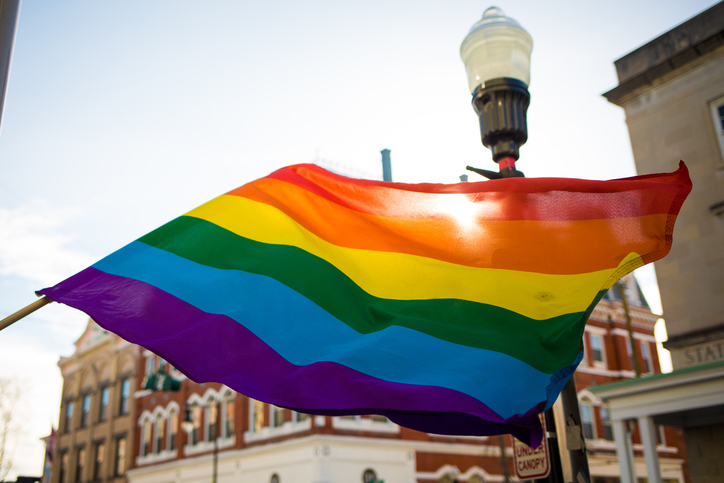 LGBTQ lawyers and activists have campaigned tirelessly over the past fifty years and have ultimately been integral in forcing successive UK governments to introduce a series of laws that have guaranteed legal rights and protections for the LGBTQ community.
July 2017 marked the official 50th anniversary of the Sexual Offences Act. This piece of legislation was not as comprehensive as it could have been, as it only partially decriminalised homosexuality in England and Wales.
Nevertheless, the landmark act marked the beginning of a series of legal measures that improved LGBTQ legal rights within the UK.
LGBTQ Legal Rights: Timeline
1964: The North Western Homosexual Law Reform Committee (NWHLRC) is set up to promote legal and social equality for lesbians, gay men and bi people.
1966: The Beaumont Society set up to provide information and education to the general public, medical and legal professions on 'transvestism' and encourage research aimed at fuller understanding. The organisation is now the UK's largest and longest running support group for transgender people and their families.
1967: Sex between two men over 21 and "in private" is decriminalised in England and Wales
1980: Sex between two men over 21 and "in private" is decriminalised in Scotland
1982: Homosexual Offences Order decriminalises sex between two men over 21 "in private" in Northern Ireland
1992: World Health Organisation declassifies same-sex attraction as a mental illness.
1994: The age of consent for two male partners is lowered to 18.
1994: The Isle of Man fully decriminalises homosexuality.
1996: The landmark case of P vs S and Cornwall County Council rules that an employee who was about to undergo gender reassignment was wrongfully dismissed. This was the first piece of case law, globally, which prevented discrimination in employment or vocational education because someone identifies as transgender.
1999: The European Court of Human Rights unanimously finds that the investigation into, and subsequent discharge of, two personnel from the Royal Navy on the basis of their sexual orientation is a breach of their right to a private life under Article 8 of the European Convention on Human Rights.
2000: The European Court of Human Rights overturns the UK's ban on gay men and women serving in the armed forces. The Sexual Offences (Amendment) Act 2000 equalises the age of consent at 16.
2002: Same-sex couples are given equal rights when it comes to adoption.
2002: In the Goodwin v the United Kingdom case, judges ruled that the UK Government should accommodate the needs of trans people by issuing new birth certificates and permitting marriage to someone of the opposite gender.
2003: The new Local Government Act repeals the notorious Section 28, which had come into force in 1988 and prohibited the 'intentional promotion of homosexuality' by local authorities. In addition, the Employment Equality (Sexual Orientation) Regulations 2003 made it illegal for employers to discriminate against gays, lesbians or bisexuals in the workplace.
2004: The Gender Recognition Act 2004 allows transgender people to change their legal gender. Same-sex relationships gain legal recognition via the Civil Partnership Act 2004.
2005: The first civil partnership ceremony takes place on 5th December 2005. The Adoption and Children Act 2002 comes into force, allowing same-sex couples to adopt.
2005: Section 146 of the Criminal Justice Act 2003 empowers UK courts to impose tougher sentences for offences aggravated or motivated by the victim's sexual orientation, or their presumed sexual orientation.
2006: The Equality Act 2006 makes discrimination against lesbians and gay men in the provision of goods and services illegal.
2007: Discrimination on the basis of sexual orientation is banned
2007: Law changes in Scotland give same-sex couples equality in adoption and fostering.
2007: The Equality Act (Sexual Orientation) Regulations 2007 outlaws the discrimination in the provision of goods, facilities, services, education and public functions on the grounds of sexual orientation.
2008: The Human Fertilisation and Embryology Act 2008 means same-sex couples are now recognised as legal parents in cases where a child is conceived via donated sperm, eggs or embryos.
2010: Being transgender (referred to as 'having undergone gender reassignment') is added as a protected characteristic in the Equality Act 2010, though intersex people are not specifically protected.
2011: UK Courts rule in favour of a gay couple when owners of a bed and breakfast refused to provide them with a double room.
2012: Protection of Freedoms Act is passed in the UK allowing for historic convictions for consensual sex between men to be removed from criminal records.
2013: The Marriage (Same Sex Couples) Act passed in July 2013 and allowed same-sex couples in England and Wales to marry. The first same-sex marriages take place on 29th March 2014.
2014: Scotland followed suit with the Marriage and Civil Partnership (Scotland) Act that allowed same-sex couples to marry.
2016: The Isle of Man legalises same-sex marriage.
2017: The UK Government issues a posthumous pardon to all gay and bi men who were convicted under pernicious sexual offences laws in the last century, which enabled police to criminalise them for being gay or bi.
2017: Amendments made to the Children and Social Work Bill, which makes relationships and sex education (RSE) mandatory in all schools in England and Wales from 2019.
2019: The World Health Organisation no longer categorises being transgender as a 'mental disorder'.
The LGBTQ community still continues to fight for greater equality and social acceptance.
LGBTQ Legal Rights: The Situation Now
In July 2017, the UK government announced that they would conduct a review of the Gender Recognition Act 2004. This review aims to make the process much more straightforward and less reliant on medical examinations. This process would allow people to self-declare their gender (already in place in countries, such as Pakistan).
The current process forces trans people to undergo a series of intrusive medical assessments and interviews with psychiatrists in order to 'prove' their gender identity.
In order for trans people to have their gender formally recognised in the form of a Gender Recognition Certificate (GRC), they have to follow a lengthy and costly procedure. To undertake this, they are required to:
Have a formal psychiatric diagnosis of 'gender dysphoria'
Live in their 'acquired gender' for two years
Provide supporting evidence to a gender recognition panel
Pay the £140 fee (not including extra fees for evidence from doctors)
Give proof of intention to continue living in their 'acquired gender' forever
This panel ultimately have the power to approve or deny their application. As well as this, the current process gives spouses of transgender individuals the power to veto the GRC (or otherwise delay its issue) – known as the 'spousal veto'. This also means spouses can end a marriage or partnership over the legal gender change.
Stonewall, an LGBTQ charity, supports a reformed Gender Recognition Act that requires no medical diagnosis or presentation of evidence for trans people to get their identity legally recognised.
They argue that it is important that the updated legislation recognises non-binary and intersex identities and gives trans people the right to self-determination through a simple administrative process.
The UK Government consultation on the Gender Recognition Act closed on 22nd October 2018, following a testimonial gathering period of 16 weeks. Stonewall reported that tens of thousands of people took the opportunity to improve trans rights by having their say on how the GRA should be reformed.
This review is due to take place imminently and it is hoped that it will result in transgender and gender-nonconforming people getting the legal recognition that they deserve.
LGBTQ Legal Rights: What's Next?
A lot has changed in regards to the legal rights of LGBTQ individuals over the last few decades. In 2017, gay rights campaigner Peter Tatchell spoke to the BBC, saying: "We have made fantastic progress. Compared to two decades ago, Britain is almost a different country. All the main anti-gay laws have been abolished. We are now one of the best countries in the world for gay equality.
"Public attitudes are much more supportive, although there are still families who reject their gay children. We still have too much homophobic hate crime, many kids are still bullied and a lot of schools don't have an anti-bullying programme that specifically addresses anti-gay issues. There is big progress, but much more needs to be done."
LGBTQ legal rights are heading in the right direction but Tatchell says: "We want to get to a situation where no one cares what sexuality you are; where we accept the person and their right to love whoever they wish – male, female, both or neither."
Published: 27/02/18 Author: Hannah Capstick
Updated: 05/06/19
Read More on Diversity: