Published on December 24, 2018 by Maria Correa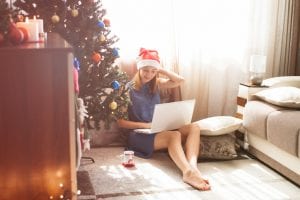 We're approaching the end of December and that can only mean one thing: Christmas.
As law students and applicants, you might be wondering how to enjoy the holiday whilst preparing for exam season. We've complied a list of tips to make sure you start the new year both ready and refreshed!
Tip #1: Make Time to Celebrate
Christmas is Christmas and nothing, neither contract law nor essay deadlines, should take the magic away from that. Put up that Christmas tree, wrap yourself in twinkly lights, pray for snow, sing along to Michael Bublé and eat all the turkey and purple Quality Street your heart desires because you shouldn't miss out on spending time with loved ones because of any degree subject.
Even if you're particularly stressed about impending deadlines and exams, take a couple of days off. With the right preparation a break will actually strengthen those brain muscles and improve the work you eventually do.
Want to learn more about relaxing during a law degree? Click here.>>
Tip #2: Work – Beyond Academics
When you have any sort of free time away from contact hours, don't forget that being a good law student and an eventual graduate involves being an all-rounder and this means thinking beyond academics. Christmas is a great time to get a temporary part time job or volunteer for charity no matter what.
If you're in second year and beyond you could apply for some work experience through winter vacation schemes or placement weeks to allow you to get a flavour for the firm.
Doing something beyond university work at Christmas will not only make you feel like you have accomplished something over the festive period, but also add skills and experiences to your legal CV and help with finances. It's not all about revision and work and whilst you have the opportunity to do something extra for yourself or for others, you should take it!
Interested in Law work experience? Click here for our free guide.>>
---
Take 30 seconds to sign up to TLP and you'll receive free, tailored information for your aspirations and stage straight to your inbox, as well as be the first to know about new, free events – what are you waiting for?
Sign-Up Now
---
Tip #3: Don't Forget About Revision
Unfortunately, whilst I advocate for taking time off and building extra-curriculars, there will come a time over Christmas when all those days off are most wisely spent on law rather than Netflix. It's vital to manage your time well over this period.
Don't leave everything until your Christmas break. Organise yourself in such a way that you have done as much as you can before you head home for the holiday. This way it won't seem like an overwhelming mountain later on. However, you know how much work you can feasibly do so don't give yourself a mammoth to-do list.
Want more Christmas revision and application tips? Click here.>>
What's the best way to organise your work? Using our revision timetable of course! Click here to access. >>
Tip #4: Don't Panic!
This especially goes for any first year law students to whom this is all brand new. You have probably been revising for exams since before GCSE's and you know how you work best. Not only this but with most universities making exam timetables and essay deadlines available well in advance of Christmas, you can make yourself a plan and stick to it to ensure you are in the best position for you to accomplish your goals.
Want to stay on top of important dates? Click here for our Deadlines Calendar.>>
Good Luck and Merry Christmas!
---
Do you know enough legal terms to do well in your law degree? Take our quiz to find out!
How Good is Your Legal Vocabulary?? Take the quiz!
---
For more related articles, go here:
Author: Alicia Gibson.