Simmons & Simmons: Vacation Scheme Case Studies
Considering applying for vacation schemes? We caught up with Matthew Caley and Karishma Gadhia, who both completed vacation schemes at Simmons & Simmons. Keep reading for more insight into their experiences.
See Vacation Scheme Deadlines
---
Simmons & Simmons Case Study: Matthew Caley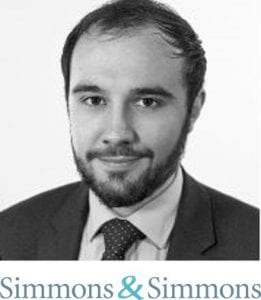 I applied to Simmons & Simmons because of the firm's strong employment practice and its focus on building relationships with clients.
I sat with both the employment and corporate departments during my scheme and instantly felt valued and part of the team. Whilst this meant complex work and some stressful situations, it gave me a real insight into what working at the firm was like – something I was hoping to get from the vacation scheme.
For example, in corporate I helped produce a guide on renewable energy across EU jurisdictions for a Chinese client, sat in on calls with the firm's European offices and helped to draft a glossy tender. It was engaging work with real responsibility.
The social side of the scheme was brilliant. We were taken on the London Eye, went powerboating on the Thames, played for the softball team and went for a great meal along the Southbank. Socialising outside of the office was encouraged and all the interns arranged our own events by the end of the scheme. I developed my skills greatly in such a short space of time on the scheme and am looking forward to starting at the firm!
For more information, visit the Simmons & Simmons website.
Simmons & Simmons Case Study: Karishma Gadhia
Attending an open day at Simmons & Simmons gave me a glimpse of the firm's intelligent market strategy. This, along with the opportunity to network with a number of sharp-minded employees, influenced my decision to apply to the vacation scheme. As the firm has unparalleled strength in financial services I chose to sit within this department during the scheme.
The quality of work I received as a vacation scheme student was refreshing – my team and supervisor involved me in trainee and associate level work, including the drafting of prospectuses, attending conference calls and conducting research.
The culture was professional but team members were light-hearted and friendly, which reflects the firm's values. Alongside office exposure, we were also invited to attend dinners, a trip to the Shard and a number of networking events. Everyone I encountered at these events, regardless of their position in the firm, was welcoming and diverse in their backgrounds and interests. My time at Simmons & Simmons confirmed to me that the firm's unwavering motivation to succeed is balanced with sincerity and a solid network of support, and I cannot wait to join.
For more information, visit the Simmons & Simmons website.
You can also read more case studies on our website – click here for Simmons & Simmons trainees and here for Simmons & Simmons vacation scheme case studies.