WIN the TLP Christmas Giveaway!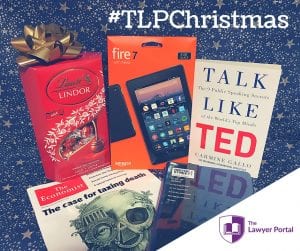 Merry Christmas from The Lawyer Portal! In celebration of our first ever Christmas, we are giving away a free bundle of perfect gifts for aspiring lawyers – worth £95!
What Do I Win in the TLP Christmas Giveaway?
The TLP Christmas Giveaway prizes are:
Amazon Fire 7 Tablet with Alexa – because what lawyer would be without their handy, bestselling tablet with millions of films, TV shows, songs, eBooks, apps and games?
12-week subscription to The Economist (+ a copy of The Economist to get you started) – to stay up-to-date with all the legal news and current affairs knowledge you need for those interviews and applications.
Copy of Talk Like Ted: The 9 Public Speaking Secrets of the World's Top Minds – to enhance and improve on those vital public-speaking skills with the help of public speaking coach Carmine Gallo.
To Do List Journal (+ pen) – to keep all of your applications/interviews/open days in one (very professional looking place)
Box of Lindt Milk Chocolate Lindor Truffles – because, why on earth not?
How Do I Enter the TLP Christmas Giveaway?
You can enter on either Facebook, Twitter or Instagram by doing two, very simple tasks. We would also recommend tripling your chances by doing it on all 3 social media channels if possible! Here are the rules:
Facebook
Like The Lawyer Portal on Facebook
Share one of our Facebook posts and use the hashtag: #TLPChristmas
Twitter
Follow @thelawyerportal on Twitter
Quote one of our tweets and use the hashtag: #TLPChristmas
Instagram
Follow @thelawyerportal on Instagram
Post a photo, tag our instagram, @thelawyerportal, and use the hashtag #TLPChristmas
The winner will be announced Friday 15th December – just in time for Christmas!
Good luck!
Published: 1/12/17 Author: Isabella Ford, Lead Content Editor
Which Christmas Gift Do You Want the Most?