Published on November 27, 2018 by ottohopkinsfagan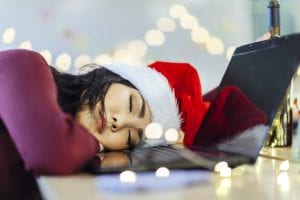 Christmas is around the corner and all you can think about is having that home-cooked turkey dinner. With all the fun and games that this time of the year brings, it is easy to forget about your law degree and that there is plenty for you to be doing in between the family get-togethers, last minute shopping and festive baking.
This article aims to give you some advice on the key things you should be doing during the festive period.
---
Take 30 seconds to sign up to TLP and you'll receive free, tailored information for your aspirations and stage straight to your inbox, as well as be the first to know about new, free events – what are you waiting for?
Sign-Up Now
---
#1 Vacation Scheme and Training Contract Applications – Get Ahead of the Game
If you have not already started applications for vacation schemes and training contracts, the essential thing you should know is that they take a lot of time and research to do well. With lengthy questions deciphering your suitability for the firm and passion for the law, applications should not be done the night before.
The Christmas break is the perfect time to start working on your applications, ensuring you are applying to firms that are right for you and that every application is tailored to each employer.
With many firms having deadlines in January and some reviewing applications on a rolling basis, giving significant time to applications during your Christmas break is definitely not a bad idea.
Thinking of applying for a Vacation Scheme. Click here to find out how to plan your application. >>
#2 Get Ready for the Next Term by Consolidating the Last
If you have January exams you may have already done your organising and consolidating of past work in preparation of your Christmas revision. Some people are naturally organised and some are not, but regardless of what type of person you are, completing some admin and organisation over the Christmas break will be more helpful than you might think.
First of all, is there any remaining reading or tasks you have not got round to completing this term? Christmas is the time to tie up these loose ends. Secondly, by the end of term (with deadlines, events and general busyness), it would be surprising if all of your work from each module is in the same place and even more surprising if it was neatly divided into individual folders, physically or digitally.
It may not seem like the most important thing but doing this consolidation now will mean that when it is time to start revising, you will not be wasting time searching for those notes that you last saw six months ago.
Quick! Read these Top 10 Terrible Application Tips you should avoid when applying. >>
3) Take a Break- it's Christmas After All!
Whether you are in your final year or still a fresher, a law degree can be challenging. Combined with volunteering, sport or other extra-curricular activities you have been involved in during this term, it is not unusual to feel burnt out and in need of a rest.
Make sure to engage in some self-care this Christmas break; see friends, spend time with family, or just relax in front of the TV in your favourite Christmas jumper. Forgetting that the Christmas break should actually be a 'break' will only be detrimental to your studies next term. Arriving back to your lecture hall in January fresh and ready to tackle the term is key to another successful year.
Want to learn more about how to find the ideal Training Contract for you? Click here to find out. >>
For more related articles, go here:
Author: Jasmin Guy