Published on October 2, 2018 by ottohopkinsfagan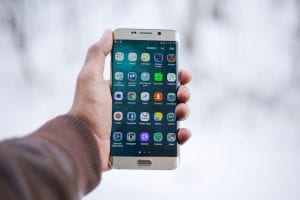 Modern day technology can be used in ways to help you through various stages of your legal career. Here are 10 must have apps for any aspiring lawyer
---
Take 30 seconds to sign up to TLP and you'll receive free, tailored information for your aspirations and stage straight to your inbox, as well as being the first to know about new, free events – what are you waiting for?
Sign-Up Now
---
Forest
Do you find yourself getting distracted by your phone when trying to work? Try out Forest, the ultimate app to stop you from using your phone during revision. I love Forest because it encourages you not to use your phone. The premise of the app is that you set a timer for how long you want to avoid using your phone. If you don't use your phone, you will grow a tree in your digital forest. If you use it during the time, the tree dies and you start again. Give it a try.
You can download the app here. >>
Why Do Lawyers Need Mindfulness? Find out here. >>
Anki
Anki is essentially a flashcard app. What makes Anki so special is its functionality. It has been proven that humans learn better by actively recalling information as opposed to passively reading. It has also been shown that this information becomes easier to recall the more it is learnt. Anki combines active recall with spaced repetition by allowing you to rank how you found remembering the information on each card. If you found it easy, Anki will bring up that card again in a few days, if you struggled it will come up again in 10 minutes.
You can download the app here. >>
Dropbox
Dropbox is my app of choice for cloud storage, but if you already use Google Drive, OneDrive or anything else then stick to that. I encourage every law student to use cloud storage to store lecture notes, slides and coursework. Imagine a nightmare scenario where your computer crashes the night before an important deadline. You'll be thankful you stored it on the cloud.
You can download the app here. >>
Scanner Pro
If you receive a ton of paper resources such as handouts, it can be easy to lose them. Using Scanner Pro, you can scan the document and save it as a JPEG, PDF or any other sort of format in order to keep them handy on your computer or phone.
You can download the app here. >>
On the Case
On the Case is a great little app from LexisNexis that allows you to search for cases using either their name, date or citation. It is very streamlined and easy to use. As a side note, I would encourage you to make use of LexisNexis Certification where you can learn how to use their suite of services, which ultimately leads to certification in Lexis Library. As law firms look for applicants with legal research skills, certification of this sort can be very useful.
You can download the app here. >>
RefME
I normally advise people to research and write coursework or essays on a computer as it is generally a better experience when typing and researching. RefME is a powerful tool that can be used on your phone to store footnotes and references. My favouritefeature though is being able to scan the barcodes of physical books and journals, which you cannot do using a computer.
You can download the app here. >>
Voice Memos
I'm sure a lot of students overlook this preinstalled app. I'm not quite sure why though. You can use it to capture voice notes of your own, for example when researching for a piece of coursework. However, the real benefit of using this app is that you can record entire lectures and seminars, allowing you to actually concentrate and ensure you never miss a detail. Just be sure to ask your lecturer's permission to record their lecture before you use this app.
Find out how to use the Voice Memos app here. >>
Spotify
It has been proven that music, especially classical music, can help stimulate the mind and allow you to concentrate better during study sessions. As such, take advantage of Spotify's huge library of music and their impressive categories of playlists in areas such as 'focus' and 'bedtime'. Spotify actually offer an impressive student discount on their Premium subscription, which will remove advertisements and allow you to listen outside of shuffle play.
You can download the app here. >>
GoodNotes 4
I like GoodNotes 4 for a few reasons. Firstly, it is incredibly simple to use. Secondly, it works well with my iPad and Apple Pencil. And thirdly, I can use it to import pictures or files and mark them up. I use this third feature all the time when I have cases to read or want to add writing to PowerPoint slides. It can be surprisingly powerful for mind mapping too.
You can download the app here. >>
Class Timetable
Class Timetable is great for timetabling. It is simple, colourful and just more user friendly compared to stock Calendar or Reminder apps. The only real pain can be adding lectures, seminars and workshops in. However, once you've done it, the app just works. That's the beauty of it.
You can download the app here. >>
Want to know how you can ace your first year? Click here to find out more. >>
I hope you've enjoyed learning about these apps and plan to start using some of them yourself. They can really make your life easier and increase productivity!
Find more interesting articles here:
Author: Ali Chaudhry