Becoming a Barrister is a long and competitive journey and may sometimes seem daunting. To help you face your path forward, we've broken down the process into simple steps. We'll guide you through each milestone and give you tips about how to stay ahead of the curve.
Pathway To Becoming A Barrister
This graphic outlines the steps you need to take if you want to become a Barrister: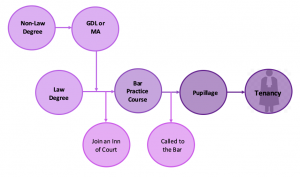 Step 1: Completing your degree
Becoming a Barrister doesn't require a law degree, but a non-law graduate will have to complete a conversion course, the Graduate Diploma in Law (GDL), in order to meet the criteria to apply for the Bar Professional Training Course (BPTC).
Whether you complete a law degree or a non-law degree, there are things you can do get ahead on the Bar career path. During your first two-years at university research the Bar and build on your relevant skills by getting involved in various activities. Getting involved with mooting/debating, joining your law society and writing for your university paper are just some of the ways you can develop your skills and build your CV.
Building your CV is extremely important as it will determine your success in formal work experience applications – our next biggest tip to support your Bar career. From mini-pupillages to judge marshalling to pro-bono work, develop your understanding of the Bar through experience, it will help your applications look stronger and help you decide whether the Bar is the career for you!
It is also a good idea to join one of the four Inns of Court. The four Inns of court are non-academic societies which support Barristers and student Barristers by providing facilities (eg. Library and common rooms) and activities to help you develop your Bar-related skills. It is only required that you join an Inn of Court by the 31st May of the yea you start your Bar course, but we recommend joining earlier to take advantage of the support provided by each Inn.
During law students' final year and over the course of the GDL for non-law students, focus should be on pupillage applications. Use you're the work-experience you have gained to strengthen your applications and ensure you are aware of your funding options.
Step Two: Mini-Pupillage
Mini-pupillages provide a glimpse into a career at the Bar, they often entail shadowing a Barrister with the possibility of attending court hearings and usually last between one day and two weeks.
Chambers often use the completion of mini-pupillages to assess candidates for full pupillages and as a result, aspiring barristers should aim to complete the industry standard of three or four mini-pupillages. It is important to stay on top of any application closing dates as chambers recruit for mini-pupillages throughout the year.
Step Three: Bar Professional Training Course
The Bar course (BPTC) is a required postgraduate course for aspiring barristers and builds on the academic study of law while applying a more practical context.
The Bar course is the first bar-specific step towards a career at the Bar and upon passing, and undertaking 12 qualifying sessions, students will be called to the Bar by their Inn of Court. However, much like a training contract, students must first complete a pupillage to fulfil their Bar training and be eligible to practice. Those who are unsuccessful in securing a pupillage will be required to retake the BPTC after 5 years has elapsed without a pupillage place to be able to continue to pursue a career at the Bar. It is also possible to obtain work without a pupillage.
Step Four: Pupillage
Pupillage is one year spent in either a barristers' chambers or another approved legal environment, usually split into two six-month periods referred to as 'sixes'. Completion of this year in pupillage allows barristers to secure a tenancy; a permanent place within a set of chambers.
While it is recommended that you first apply for pupillage during your final year of university, if you choose not to or you are at first unsuccessful, the main rule to remain aware of is that you need to apply for pupillage at least a year before you wish to start. This means, for example, if you wish to start your pupillage beginning in September 2023 you should apply by January 2022.
Applications for pupillage are made through the centralised site, the Pupillage Gateway. All pupillage vacancies are listed on Pupillage Gateway, however, not all vacancies will have the same deadlines and methods of application; while most chambers enable you to apply through the Pupillage Gateway, some chambers still require direct applications. For this reason, it is important that you use Pupillage Gateway alongside chambers own websites to ensure you receive the application-specific information.
The Pupillage Gateway opens for applications every January, with applications closing a month later. However, students can log in to the system to check vacancies and start preparing their applications from late November.
Offers made via Pupillage Gateway will be made during May, while the direct chamber applications will be made around the same time.
The first six is spent without practising and involves pupils observing and assisting pupil supervisors and other barristers in chambers. The intention of the first six is to get to grips with the day-to-day practice of the barrister by sharing their routine.
The second six introduces pupils to practice by entitling them to supply legal services and exercise rights of audience as a barrister. During the second six pupils may have cases and clients, who they represent in court. Although it may seem early, the second six is when barristers begin to build their reputation – an essential for a successful career at the Bar!
At the end of the second six, each pupil must submit a certificate to the BSB certifying that the second six has been satisfactorily completed and, granted certain training conditions are met, a full qualification certificate will be provided. In short, you will be a barrister!
Step Five: Tenancy
Tenancy is applied for at the end of the second six, either at the chambers in which the pupil undertook pupillage or a different set. Tenancy involves elf-employed barristers working together in a chambers to share resources and costs and is the most popular way for barristers to work independently. Work is often assigned to a chambers who specialise in a relevant area of law and work is distributed through solicitor instructions by clerks.
The competitive nature of the Bar route means that many barristers who complete their pupillage may not be offered a tenancy at the end of the second six. In this instance students can apply to complete a 'third six' at another chambers to gain more experience and the opportunity to gain tenancy at that chambers. This will give you another opportunity to practise and develop your experience with a view to ultimately gaining tenancy at that chambers.
You may also, in some instances, be able to remain at your chambers by "squatting". In this case, instead of being under the supervision of a pupil supervisor, you'll be responsible for yourself. It's important to note that this is only a temporary solution.