Published on May 15, 2018 by isabellaford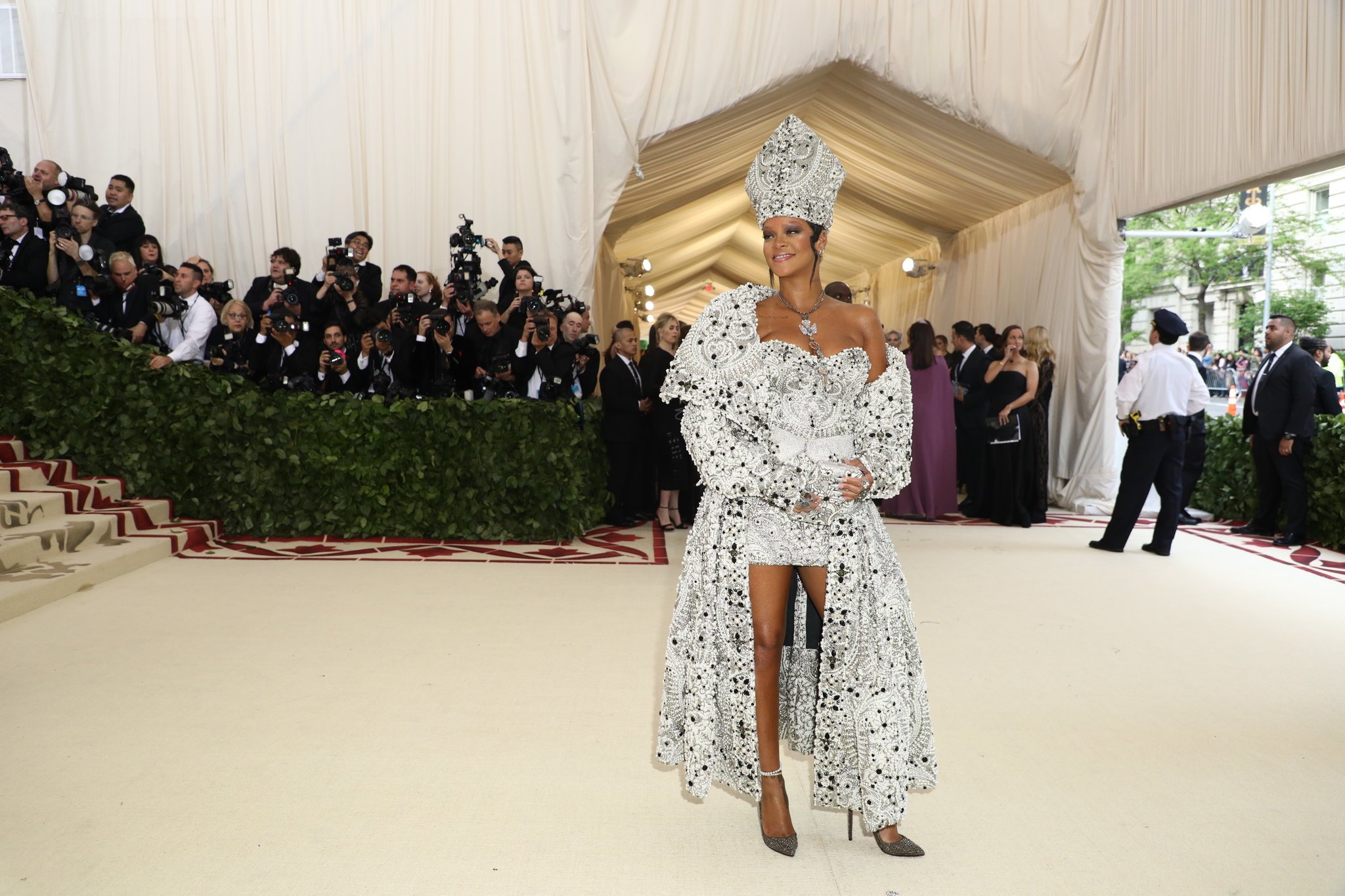 "Both Gianni and I have used religious symbols in our creations" – Donatella Versace
Last week, the highly anticipated Met Gala took place at the iconic Metropolitan Museum of Art, 1000 5th Avenue, New York, which is the largest art museum in the USA. Its famous steps were also regularly featured on the TV series, Gossip Girl.
My timeline on the 'gram (aka Instagram) was inundated with posts by Jennifer Lopez and Kim Kardashian West wearing custom-made dresses designed by Balmain and Versace respectively. Both dresses were embellished with the symbol of the cross, which is inextricably linked with the Christian faith and synonymous with grace, love, sacrifice, power and victory over death.
For those uninitiated with the Met Gala, it is a black tie fundraiser for the Costume Institute of the Metropolitan Museum of Art ("The Met") that is held on the first Monday of May. The dress code for this year's "Oscars of the East Coast" was 'Heavenly Bodies: Fashion and the Catholic Imagination', which has been described by some as religious appropriation, offensive and blasphemous.
It has been widely reported that The Vatican gave its permission for the theme and loaned papal vestments, regalia and artefacts from the Sistine Chapel for the eponymous exhibition at The Met.
The cross is a symbol of religious and spiritual significance but can such symbols be afforded with legal protection?
---
Meet and mingle with top law firms at our Training Contract and Vacation Scheme Conference – book now for just £5!
Book now
---
The Intersection of Fashion, Sacred Symbols and Trade Mark Law
Religion has long been a muse of fashion designers: in the Versace A/W 1997 collection, Naomi Campbell walked the runway in an Atelier Versace evening dress that was emblazoned with a gold cross.
Fast forward to last week and John Galliano's Maison Margiela bejewelled papal creation, complete with mitre, was worn by Rihanna, the co-host at this year's Met.
Should it be inferred from the decision of Met Gala chair Anna Wintour to liaise closely with The Vatican that The Vatican has an exclusive right to Roman Catholic imagery?
To be eligible for trade mark protection, the iconography of Catholicism, which include depictions of angels, the Virgin Mary and the birth and crucifixion of Jesus, would need to satisfy the prerequisites of a registrable trade mark.
A trade mark is defined under Article 15 of the Agreement on Trade-Related Aspects of Intellectual Property Rights (TRIPS Agreement) as "any sign, or any combination of signs, capable of distinguishing the goods or services of one undertaking from those of other undertakings".
The World Intellectual Property Office (WIPO) in a 2012 study on "Misappropriation of Signs" highlighted that there is diversity in the approach taken by individual countries in ascertaining the distinctiveness of a religious sign. For example, a sacred symbol that is not combined with another sign may be found not be distinctive and thus not eligible for trade mark protection in that jurisdiction.
The jurisdictional landscape on the eligibility of religious signs for trade mark protection is a patchwork quilt of distinctions as shown by the following examples:
Japan and Korea
Both jurisdictions do not have absolute grounds of refusal or invalidity of religious signs.
However, a trade mark will not be registered if it is likely to cause damage to public policy (Japan) or falsely indicate a connection with, or that criticise, insult or are liable to defame religion (Korea).
The USA
The Lanham Act provides that a trade mark should not be registered if it consists of matter which may disparage or falsely suggest a connection with institutions and beliefs or bring them into contempt or disrepute.
The EU
EU Member States are entitled to not register or declare invalid a trade mark that covers a sign of high symbolic value such as a religious symbol under Article 3(2)(b) Trade Marks Directive.
This is a defensible approach that seeks to preserve the integrity of religious signs by preventing them from being used in such a way that would be an affront to morality or public order.
---
Want more insight into the biggest legal news stories? Take a look at our new How to Discuss series!
---
What Does This Mean for the Met Gala Theme?
Ultimately, the cornerstone of trade mark law is to safeguard signs used in the course of trade which means that religious signs that are not used for commercial purposes do not fall under the auspices of trade mark law.
This serves to strike the delicate balance between the interests of the public and the right of the trade mark owner to exclusively use the registered trade mark.
Andrew Bolton, curator at The Met and mastermind for this year's exhibition, hailed the interplay between religion and fashion as "complex and sometimes contested…[but having] produced some of the most inventive and innovative creations in the history of fashion."
Whether or not you agree, interesting legal questions arise on whether trade mark law confers protection on the value, integrity and inherently sacred nature of religious signs.
Don't stop there – read more insights into big news stories:
Published: 15/05/18 Author: Hilda-Georgina Kwafo-Akoto