Published on March 20, 2020 by lauraduckett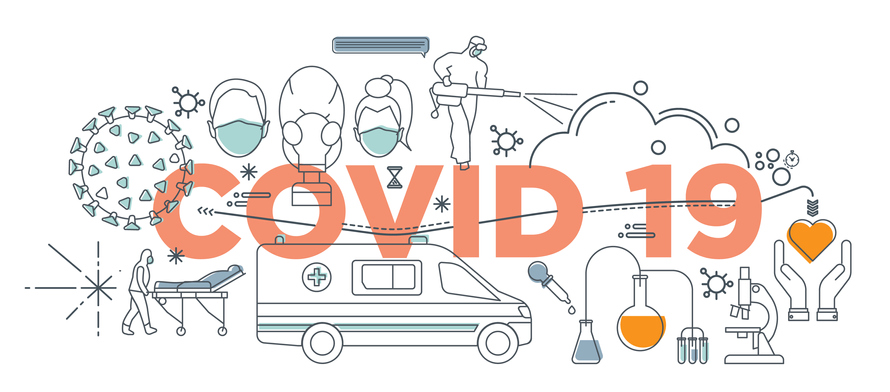 Like many sectors hit by the COVID-19 fallout, the legal industry has had to come to terms with the fact that it is not business as usual. Read on to find out the impact on the coronavirus pandemic on the legal sector so far.
Sign up to our weekly newsletter for the latest updates on how the pandemic is affecting legal practice and study straight to your inbox.
Receive Regular Updates
---
The Bar Council Calls for all In-Person Hearings to be Suspended
In line with the Government's current health advice, Amanda Pinto QC has called for hearings to be halted in all jurisdictions, "save in exceptional circumstances where a video link or phone hearing cannot accommodate the interests for justice." Such exceptional circumstances may include situations where a long jury trial may be coming to its close and it would be inappropriate to suspend it. The suspension has been proposed to last for 30 days in all divisions of the court, after which they will review the suspension.
Pinto also highlighted that the Bar Council is and will continue pressing the government to include the Bar in financial aid and is exploring rent and tax breaks. The Bar Standards Board has said that if a Barrister chooses not to appear in court due to the potential risk to their own health, they will not be in breach of the handbook and would not be sanctioned.
Lord Chancellor Robert Buckland QC has said that courts have a critical role and must go on sitting. He reiterated plans to stop longer Crown Court trials and agreed with the Lord Chief Justice who said that some cases will have to take precedence. He said that: "our crown and magistrates courts provide a vital public service and until instruction otherwise, we expect all lawyers, magistrates, jurors, witnesses, defendants and court staff to continue to attend court as required, so the interests of justice can be served."
Lord Burnett has said that the impact of the public health emergency on the courts' operation is being constantly reviewed but that every effort must be made to maintain a functioning court system.
Despite this, there have already been several reports of cases being stopped due to the absence of lawyers or witnesses.
The Bar Standards Board Postpones Qualifying Exams Until August
This has caused fears amongst students who worry this may affect pupillages due to begin in the Autumn. The regulator has cancelled the exams in Civil Litigation, Criminal Litigation and Professional Ethics, which were supposed to be in April and highlighted that these centralised assessments will be available to take in August instead.
With regard to whether those taking the Bar Professional Training Course will qualify in time to start pupillage in September, the Board has said that it is not possible at this stage to give assurances about whether potential pupils will fulfil the requirements that they must complete before commencing pupillage. Despite this, a spokesperson for the University of Law has said it "will do everything possible to avoid delay to students in starting the next stage of their training (be it pupillage or training contract)"
A London Commercial Set Cancels Pupillage Recruitment Round
Henderson Chambers has said that it has concerns that video interviews will not accurately reflect aspiring barristers' abilities. The chambers have confirmed that as all members have been sent to work from home, any interviews would be needed to be conducted by video conference and that they do not at present have confidence in this method of recruitment.
Law Firms Postpone Spring Recruitment Schemes and Workshops
Freshfields, Allen & Overy and Linklaters have postponed their respective first-year spring schemes.
Slaughter and May have postponed their Spring Vacation Scheme, due to begin at the end of March.
Shearman & Sterling have postponed their spring vacation scheme.
Goldman Sachs has postponed their London legal internship.
Baker McKenzie has postponed their two-week spring vacation schemes. The 15 final year students and graduates have instead been offered a place on its summer vacation scheme.
Herbert Smith Freehills' two-week spring vacation scheme has been postponed until late June in response to the outbreak. Any incoming spring vacation schemers who cannot make the rescheduled dates will instead be offered a direct training contract interview, although offers available through this route will be limited and the threshold will be high. Herbert Smith Freehills have also postponed first-year workshops and introduction to law workshops until the summer months
Charles Russell Speechlys has postponed their spring vacation schemes due to be held in London, Cheltenham and Guildford. The firm has said they are likely to reschedule the schemes but keeps the situation under review.
Penningtons Manches Cooper has postponed its Easter vacation scheme.
The SRA Tells Law Schools not to Allow Home Examination
A solicitor watchdog has said that the strict rules regarding exam supervision cannot be relaxed in response to the Covid-19 outbreak. The SRA has stressed that standards must be maintained – even if this creates delays.
It added: "We do not specify the form that assessments for the Qualifying Law Degree and the Graduate Diploma in Law should take, so providers must consider what arrangements are best in the current circumstances."
The regulator has also said there is "no indication" at this time that the outbreak will impact the Solicitor's Qualifying Exam, which is set to replace both the LPC and the GDL when it comes into force in September.
Law Schools to Suspend Face-to-Face Teaching
The University of Law has cancelled face-to-face lectures and all assessments and examinations from the 17th March until further notice. This is to protect the health, wellbeing and safety of its staff and students. The university has said teachers will, where possible, move to teaching online. Assessments scheduled for this period will be rescheduled.
City Law School confirmed all teaching will be online and there will be no further face-to-face classes from 23rd March. Legal Cheek has reported that the law school is also attempting to find a way to move all assessments and examinations online.
BPP University Law School postponed a Legal Practice Course (LPC) exam due to take place on the 17th March. In a statement to students BPP said: "the policy of BPP has been and is to follow the advice of Public Health England. (…) Based upon new guidelines given today we have decided to postpone the examination." The University added that a new date would be scheduled as soon as it was safe to do so.
Words: Alicia Gibson
Read More: