Published on December 18, 2019 by lauraduckett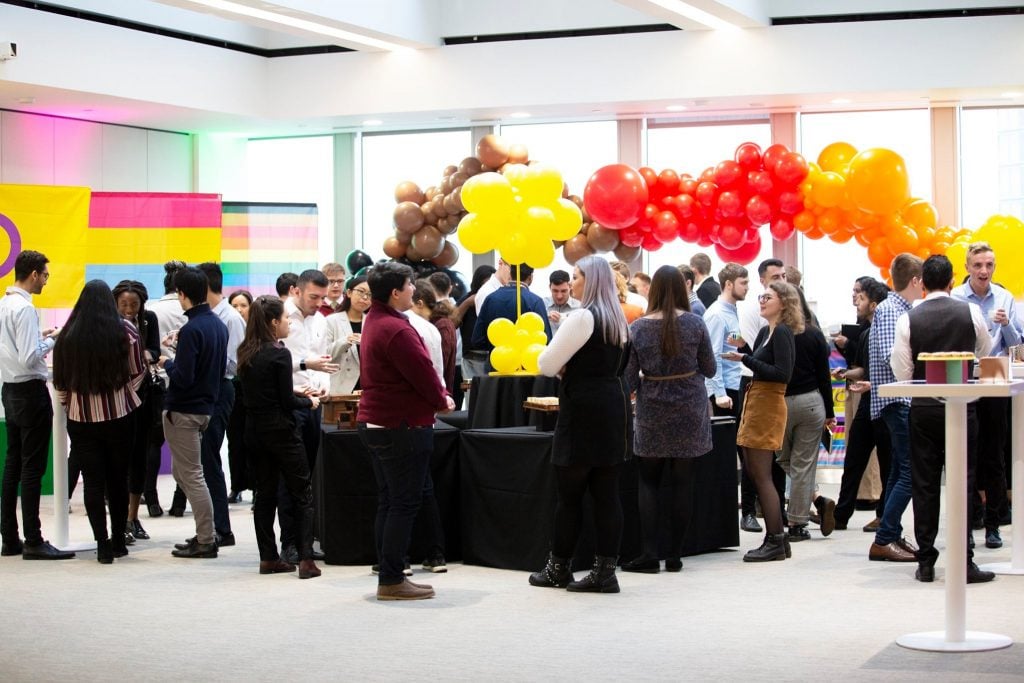 Thursday, 21st November saw Clifford Chance's second ACCEPT conference, an all-day and evening graduate recruitment event for LGBT+ students interested in a legal career with the firm.
Bringing together over 50 attendees – each embracing different sexualities and gender identities – the day comprised panel sessions, guest speakers and many opportunities for the attendees to grow a network of like-minded peers.
Clifford Chance ACCEPT Conference
Supporting the firm's aim of being the employer of choice for LGBT+ students interested in a career in law, ACCEPT is a significant part of a year-long calendar of graduate events and activities run by the firm to showcase their LGBT+ role models, and to provide a safe place for diverse students to recognise that embracing their authentic selves at work can lead to a fulfilling and successful career.
This year's ACCEPT conference saw guest speakers including Ben Hunte, the BBC's first LGBT+ correspondent, and discussions ranging from enhancing bi visibility to embracing identities beyond the gender binary. Clifford Chance partner Ilse van Gasteren came from Amsterdam to speak about being a lesbian partner at Clifford Chance and how the firm has supported her.
Attendees also heard from the Target Jobs LGBT+ Undergraduate of the Year 2019, Thomas Moran, about how the Clifford Chance-sponsored award led to him receiving and accepting a training contract with the firm.
The day concluded with a panel event showcasing the firm's commitment to inclusion through undertaking a number of high-profile LGBT+ pro bono projects. Chaired by Matthew Todd, award-winning writer and former editor of Attitude magazine, the panel comprised Milan partner Ferdinando Poscio, Warsaw partner Marcin Ciemiński, London associate Anne Collins, Head of Pro Bono for UK & Ireland David Boyd and Global Director of Inclusion Tiernan Brady (who joined via video link from Hong Kong).
The panel discussed a number of the firm's pro bono cases, including the landmark equal rights challenge in Singapore, a ruling about same-sex parenting in Italy, the fight against anti-LGBT materials in Poland, and the campaign for X passports in the UK.
Co-chair of Arcus London, Clifford Chance's LGBT+ and allies network, Toby Horner, who organised the conference, said "Not only does ACCEPT allow us to identify the future LGBT+ talent for the firm, but it also allows us to make a real personal change to those who attend. Just hours after the conference I received a message from an attendee to say the experience had empowered them to come out to their parents that same day. What more could we possibly want from an event such as this?"
Earlier in the year, alongside partners Deutsche Bank, the University of York and National Student Pride, Clifford Chance launched the biggest ever research project exploring the experiences of young LGBT+ students at university and on entering the workplace.
The research report included recommendations for universities and employers on how to implement tangible change for LGBT+ people. A copy of the report can be downloaded here.
About the LGBT+ Undergraduate of the Year Award 2020
Clifford Chance is searching UK universities to find the LGBT+ Undergraduate of the Year 2020. For the second year, they're delighted to be sponsoring the award alongside National Student Pride and ATTITUDE, which celebrates the diverse range of talent, endeavours, and achievements made by LGBT+ students.
Thomas Moran, winner of the 2019 accolade won a place on the Clifford Chance Spark Scheme 2019 through which he went on to receive his training contract offer, as well as a trip to Clifford Chance Hong Kong office to work shadow and experience the firm's global annual pride Art Show.
Applications for the LGBT+ Undergraduate of the Year 2020 award are open now until January, 31st 2020. Interested students can read more about the award and apply here.
Testimonials
I remember hearing about the first ACCEPT Diversity and Inclusion conference. I was surprised that corporate environments would be so accepting of the LGBTQIA+ community given that 1 in 5 graduates go back in the closet when entering the workforce.
I applied and attended albeit with reluctance, the fears I had were to do with issues one has not only being queer but belonging to a BAME background and/or a religious minority that actively denigrates those belonging to the LGBTQIA+ community.
Nonetheless, I attended and quite honestly? It was the best decision I have ever made. The first conference, I was internally battling with two conflicting aspects of my identity, being queer and Muslim.
My fears were how this would be received in the workplace, I – like many others – were reluctant to state this on applications but I was reassured that being your true authentic self in the workplace is what progresses your career; not hinder it. Many like me fear for our lives and safety if we risk coming out.
The next year, I was invited to the second ACCEPT Diversity and Inclusion conference, I was amazed. Intersectionality was at the core of the event, there were people who represented every part of the LGBTQIA+ spectrum and I felt as a queer woman I was heard, seen and validated.
Now I would consider being out and proud in the workplace, from the opportunities I had received from Clifford Chance, to the extent where I constantly get messages on my LinkedIn from people who were in my position asking for guidance and advice.
It was ACCEPT where I cultivated my own personal brand in my professional development, and I could not be more thankful for it.
Tehzeeb Fatima Bukhari
Final Year Law Student
My experience at ACCEPT 2019 is unparalleled. I have been to many LGBT+ diversity events in London and can confidently say that ACCEPT is my favourite. Whether you're wanting a career in law, or just a City career, you should apply for ACCEPT. Every panel is curated to offer a different perspective on life as a member of the LGBT+ community with additional perspectives on important LGBT+ matters outside of professional life.
I am lucky enough to have attended this event two years in a row, and each time I have been able to walk out of the Clifford Chance office in Canary Wharf feeling a little bit prouder and more confident in my identity and my career prospects.
Not only have I felt more equipped to navigate a City legal career as an agender gay person, but I have met new people who are incredibly supportive, and I believe will be life-long friends, wherever we end up working. This event shows the true commitment to diversity that Clifford Chance has, and that they don't believe in just "slapping a rainbow on it".
Tilly Morgan
Final Year Law Student
It was an amazing opportunity to speak on my experience being openly LGBT+ and Autistic at Clifford Chance's ACCEPT event; encouraging those who identify similarly to apply for LGBT+ Undergraduate of the Year Award.
I felt immensely proud to be a Future Trainee at a firm that puts inclusion at the forefront of everything it does. Moreover, it was equally empowering to speak to so many inspiring individuals who are all championing inclusion in their communities.
Thomas Moran
Target Jobs LGBT+ Undergraduate of the Year 2019 and Clifford Chance Future Trainee
Read More