Published on December 5, 2019 by lauraduckett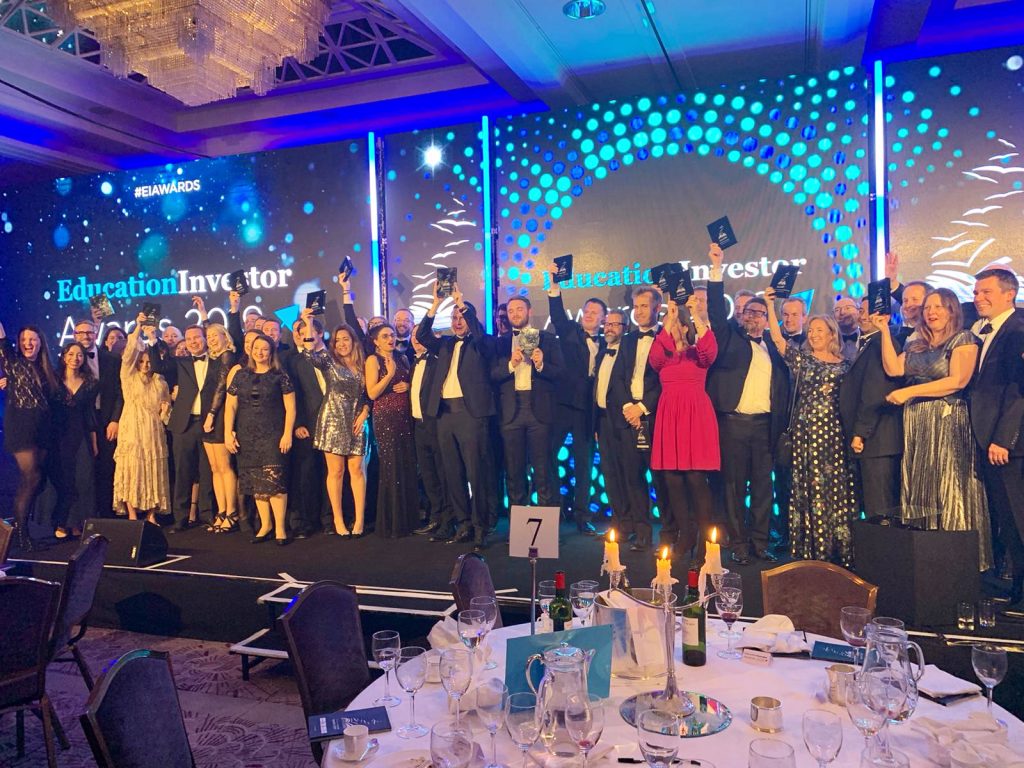 TLP has won Best Market Entrant in the 2019 Education Investor Awards!
The award, handed out at a lavish ceremony, in London, was the last of 20 prizes handed out to leaders in the education sector.
There to collect it were managing director and co-founder of the Lawyer Portal, Rachel Davis, and the site's editor, Laura Duckett.
"Winning this award is a massive achievement for The Lawyer Portal and everyone involved. Our focused, content-led strategy, backed by key stakeholders including our partner law firms, BPP Law School, The Law Society, CILEx and the Bar Council has enabled us to build and deliver a high quality, industry-led (and now) award-winning platform.
"We couldn't be happier! Looking forward to seeing what the future holds and continuing to inform and support the next generation of lawyers. Exciting times ahead!" Said Rachel.
Presenting the award, BBC comedian Steve Amos set the hilarious tone for the evening, lighting up the stage with his sharp wit.
Among the other categories were Best Education Business Services, Schools Improvement Provider and Financial Advisor of the year, and Judges included Patrick Hayes, chief development officer, Times Higher Education and Andrea Park, director, Langley Park Learning Trust.
"The Lawyer Portal looks to be built on the winning formula of the Medic Portal and has seen impressive growth and development during its early stages. The growth of partners, clients and customers is impressive. Work being done on improving diversity and widening participation is particularly impressive to see within the legal field.
"The Lawyer Portal has strong product, affiliations, outreach and growth – an innovative enterprise," remarked one of the judges.
Partnering law firms Eversheds Sunderland, Browne Jacobson also made an appearance at the annual event.
Education Investor Global is a leader in education publishing. Its journalists produce and publish several sector-specific supplements covering news, analysis of market trends, education deals listings and more.
In 2017, The Lawyer Portal's sister site The Medic Portal won an award from the organisation for Best Content Publisher. It continues to pave the way for thousands of medic students entering the highly competitive field.