Published on July 2, 2019 by Lauren Wade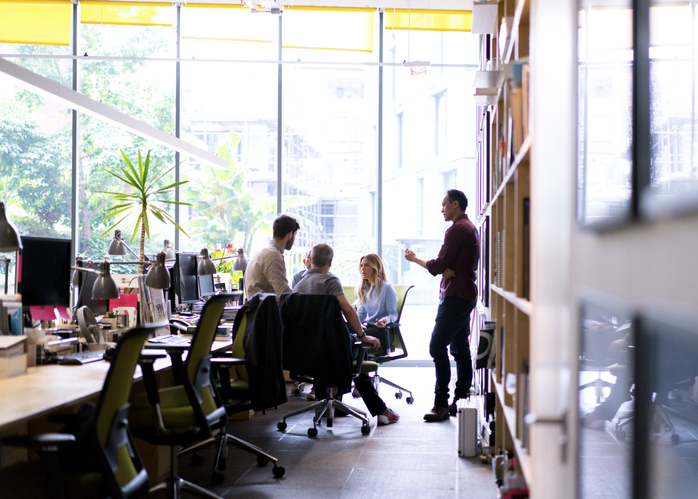 If you're looking for other routes into a career as a solicitor, you could consider applying for an in-house training contract role at a company or organisation.
Traditional training contracts at law firms can be incredibly competitive to secure, and many look towards in-house training contracts as alternative ways into the legal profession. More opportunities are popping up each year thanks to an increased demand for commercial, IT and corporate lawyers, as well as a higher demand within the technology and start-up sector.
When choosing between working as an in-house or private practice trainee lawyer, you need to consider the skills, lifestyle or any other commitments or requirements you may have.
Here are a number of pros and cons to help get you started on deciding whether working as an in-house lawyer could be the right career choice for you.
Take 30 seconds to sign up to TLP and you'll receive free, tailored information for your aspirations and stage straight to your inbox, as well as be the first to know about new, free events! Sign-Up Now
Pros
One client
Working for just one client could also be seen as a negative, but for most it's a positive aspect of in-house work. It can give you a sense of continuity within your work, as well as job stability and security.
Economic challenges in the job market are less likely to affect in-house lawyers as their sole client should be able to provide a steady stream of work for them on a continuous basis.
Read about what it's like to work as an in house legal trainee at BT
Variety of work
In-house legal teams are likely to be much smaller than the size of a typical law firm. As a result of this, in-house lawyers might have the chance to take on more responsibility at work. There could be more variety of work within different areas of the law, which is useful if you're not interested in or sure which type of law to specialise in.
According to The Law Society, the range of work that in-house lawyers can expect to take on "is only increasing. In-house counsel are now being seen as the gatekeepers of the their organisations in the face of large, set-piece governance issues, such as the Bribery Act, and as the regulators are given more teeth to target both organisations and individuals."
Flexible working hours
Some city law firms have a reputation for late nights. In-house roles can offer more flexible working hours to suit an array of commitments and lifestyles.
You may find an in-house role is suited to you if you want a better work-life balance. Client working relationships are also able to offer more equality, as in-house lawyers aren't dependent on them for their fee income since they don't work billable hours.
Greater commercial awareness
Working in-house could give you the opportunity to contribute to the strategic decision making and direction of the company you're working for. You have the chance to be a key part of the company's future success and learn more about the business and best practices as you do so.
This means that working in-house could give you a greater and broader sense of commercial awareness and you would be able to clearly see how your legal output is used by the company.
Read 7 Things to Know About Commercial Awareness
Ability to see the bigger picture
Your work as an in-house lawyer allow you to make a noticeable difference and help the company meet their overall aims and objectives. This might be more rewarding for some people as private practice lawyers often have multiple clients with several different aims and objectives to meet.
Cons
Salary
One of the major differences between working as in-house lawyer compared to at a private practice firm is the salary you take home each month. Larger city firms tend to offer competitive salaries for trainees and qualified solicitors.
In-house lawyers may receive lower salaries in comparison to their law firm counterparts, however they don't have to worry about billable hours since they are working for one client.
Additionally, some in-house roles offer bonuses and benefits to bridge the gap between the higher salaries earned elsewhere. In-house counsel might also gain more personal time outside of work due to shorter working hours, which for some people is seen as a huge bonus.
For average starting trainee solicitor salaries, read our training contracts guide.
One client
Just as it can be seen as a positive, it can also be viewed negatively. Working for one client means that you have to have faith in your company's ability to remain profitable.
You may not have the same challenge of bringing in new clients as qualified solicitors at private law firms, however if the company hits hard times you could find yourself in a difficult situation.
Lack of international opportunities
Many international law firms in the city offer chances for their trainees to experience life at another office abroad. If you work in-house for a company they might not have the same international opportunities available.
This could be an issue for trainee solicitors who want to experience a different culture and way of life, as well as broadening their skills. If living and working abroad sounds appealing, then an in-house role may not be for you.
Read about what it's like for a trainee on a secondment to Hong Kong
What's the verdict?
Understanding the key differences between working as an in-house lawyer compared to working for a private practice firm is very important.
You need to know what each role would mean for your ability to practice law and whether the roles would suit your lifestyle, commitments and expectations.
If you were to choose a private practice firm for your training contract, there's nothing to stop you applying to switch to an in-house role in the future and vice versa.
Read about working as an in house solicitor at VitalityLife
Read more: