Monthly News Summary – November 2017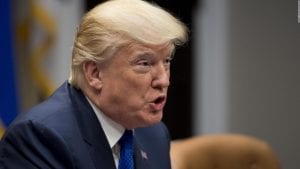 Welcome to The Lawyer Portal's Monthly News Summary. This month's post will cover the news stories from the 1st November 2017 to the 30th November 2017. This month, Donald Trump controversially lifted the ban previously imposed by Obama on importing elephant hunt trophies from Zimbabwe and Zambia, the saga on Spanish independence finally reaches a temporary conclusion, a murder conviction was affected by a judge who 'refused to touch envelopes from HIV-positive defendant' and Scotland seems set to legally recognise a third gender.
---
Donald Trump's administration is to allow the remains of endangered elephants legally hunted in two African countries to be imported to the US, reversing a ban introduced by Barack Obama.
The Obama administration banned imports of trophies from Zimbabwe in 2014 after finding the nation's management of legal hunting did not "enhance the survival of the African elephant the wild." However, the US government has scrapped regulations which forbid elephant trophies being brought into the country from Zimbabwe and Zambia, arguing hunting could help conservation efforts.
The Zimbabwean elephant is listed as "threatened" under the US Endangered Species Act and importing African elephant ivory to America is banned unless certain conditions are met. But the US Fish and Wildlife Service, announcing the lifting of the ban in Zimbabwe and Zambia, said that money raised through hunting permits could boost conservation efforts. A spokesperson went on to suggest that "Legal, well-regulated sport hunting as part of a sound management programme can benefit the conservation of certain species by providing incentives to local communities to conserve the species and by putting much-needed revenue back into conservation." However, it did not say what had changed since the ban was imposed on Zimbabwe, where the elephant population has declined 6 per cent since 2001, according to last year's Great Elephant census.
The decision to lift the ban was criticized by the Humane Society. They stated that, "evidence shows that poaching has increased in areas were trophy hunting is permitted." They go on to highlight that elephants are a threatened species and the global community has rallied to halt the ivory trade; and now, the USs government is giving trophy hunter the green light to undo all that work. Moreover, The Elephant Project Conservation group condemned the behaviour of the Trump administration as "reprehensible."
The US previously allowed ivory to be imported only from Namibia, South Africa and Botswana, although sport hunting is banned in the latter country. The President's son, Donald Trump Jr, sparked a wave of condemnation in 2012 when he was pictured holding a severed tail of an African elephant.
---
Scotland is set to become the first part of the UK to create a legally-recognised third gender for people who do not identify as either male or female.
Young children who have not yet reached puberty could also be allowed to legally change their gender under plans set out by Scottish Government. The proposals, which were warmly welcomes by gender equality and trans groups, were described by others as an "outrage" and said the amounted to an "attack on family."
Ministers want to reform the Gender Recognition Act 2004, which states that people in the UK have to be over 18 and apply to a panel if they want to change their gender. Angela Constance MSP highlighted her belief that, "We need to do more to progress equality for trans people." A consultation paper published on Thursday says this "intrusive and onerous" process should be simplified in Scotland and the minimum age for applications lowered to at least 16. It also suggests removing the need for applicants to provide medical evidence and to have lived in their new gender for two years, creating a new "self-declaration" system instead.
Other options are also being considered, such as making Scotland one of the only countries in the world to recognise people as "non-binary." Giving recognition to a non-binary gender would be a "significant legal step", the document acknowledges, as it could require amendments to equality, marriage and criminal law. The UK Government announced plans to review gender recognition legislation in July, but a consultation is not expected to be launched until next year.
The Scottish Trans Alliance welcomed the plans, describing the current process of legally changing gender as "humiliating." Colin MacFarlane, the director of Stonewall Scotland, also said the reforms were "desperately needed" and would help to reduce the "discrimination and abuse" facing trans people. But Simon Calvert of the Christian Institute said the changes could lead to children legally changing their gender and then regretting the decision.
---
A convicted murder in the US could have his sentence quashed after it was revealed the judge assigned to his case refused to read court motions because the accused was HIV-positive. Records of comments made by the Riverside County Superior Court Judge David B Downing during jury selection process have called the conviction into question.
Kaushal Niroula was convicted of murdering an elderly man but his conviction could be overturned after judge said he had not read court motions because the accused was HIV-positive. In 2012, Kaushal Niroula was convicted, along with five other co-defendants, of murdering 74-year-old Clifford Lambert at his home in Palm Springs, California in December 2008 before burying his body in the desert. But records of comments made by the Riverside County Superior Court Judge David B Downing during the jury selection process have called the conviction into question.
He is reported to have said that he did not read the submissions that Niroula, who is gay and HIV-positive, had submitted to the court because they were in an envelope which had been licked close. "Lord knows where his tongue had been," he reportedly said. At the time, the court microphones were turned off, but his comments were picked up by the laptop of Niroulas co-defendant, Daniel Garcia, which had been recording the proceedings for seven weeks. It is not illegal to record court proceedings in the US, as it is in the UK. Official court transcripts show that Mr Dowling was confronted about these comments twice during the trial, but he defended them citing his First Amendment right to free speech.
A decision by the Appeals court has ruled that what he said was important and has sent Niroula's case back to the county court where it was piggybacked onto as a joint appeal by three of his co-defendants.
The judge denies the comments suggesting that whilst he can't remember "off the top of his head", he didn't say it.
---
After a contentious independence declaration, the arrest of eight members of the Catalan government and rebellion charges filed against an ousted Catalan leader who fled to Belgium Spain's top court has officially cancelled Catalonia's declaration of independence.
A judge in Madrid has ordered eight members of the deposed Catalan government to be remanded in custody pending possible charges over the contentious declaration of independence given in November. Carmen Lamela, jailed the eight former ministers – including the deputy president – while they were investigated on possible charges of sedition, rebellion and misuse of public funds. Lawyers for those under investigation said their clients would appeal against the judge's decision, which they described as unjustified, disproportionate and predetermined. They also requested that Puigdemont who had fled to Belgium be found and arrested along with the four other regional ministers who are also in Belgium.
Catalan's ousted leader Carles Puigdemont ignored a court order to return to Spain to answer charges over the region's push for independence. If Mr Puigdemont fails to answer the HC summons, an arrest warrant could be issues that would make it virtually impossible for him to stand in a snap regional election called by the Spanish government for 21st December. His lawyer said he could testify from Belgium. Spanish Prime Minister Mariano Rajoy sacked Mr Puigdemont and his government, hours after the Catalan parliament made a unilateral declaration of independence – a vote boycotted by the opposition and declared illegal by Spanish courts.
Following this, Spain's state prosecutor filed charges of rebellion, sedition and misuse of public funds against Mr Puigdemont for defying the central government by holding a referendum on secession on 1 October and later proclaiming independence.
Published: 30/11/17 Author: Alicia Gibson.
Oops! We could not locate your form.