Lon-done with Uber?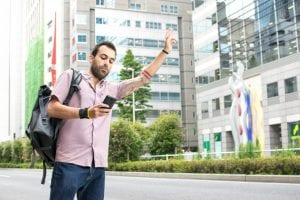 Transport for London (TfL) on 22nd September 2017 decided not to renew Uber's private hire licence, which expires on the 30th of September 2017, meaning they are unable to operate in the English Capital.
The technology giant has 21 days to appeal against this decision of TfL. It is important for Uber to win this appeal as London is one of its largest hubs. This is crucial for the company, as it already lost an employment legal battle in October 2016, where the Tribunal ruled that Uber must treat its drivers as employees and that they were entitled to minimum wages.
What happens to Uber in London in the interim of its appeal?
Fred Jones, an executive for Uber UK, told BBC that Uber would undoubtedly appeal against the decision and it can and will continue to operate even after 30th September 2017.
Uber claims that this decision would tend to show London in a negative light and the message to the world will be that of London being closed to new innovative companies.
TfL confirms that Uber can "continue to operate until any appeal processes have been exhausted", BBC reports. This implies that Uber can continue its operations in London for several months to come.
Implications of the decision
TfL's decision not to renew the license may topple the lives of nearly 40,000 drivers that it employs and nearly 3.5 million users of the app. Several regular users of the app have expressed discontent over this decision.
TfL ruled that Uber was "not fit and proper" to hold a private hire licence and can have several "potential public safety and security implications", The Guardian reports.
The Transport authority raised concerns regarding Uber's
"approach to reporting serious criminal offences."
"approach to explaining the use of Greyball in London…"
The decision was celebrated by several smaller rivals who offer similar tech at competitive prices. The Black Cab drivers also welcomed this decision who have criticised Uber's safety record.
London Mayor, Sadiq Khan spoke out in support of the decision and said, "All companies must play by the rules and adhere to the high standards we expect- particularly when it comes to the safety of customers. It would be wrong if TfL continued to license Uber if there is any way that this could pose a threat to Londoner's safety and security."
What is 'Greyball'?
An investigation by the New York Times reported that Uber had been using a software known as 'Greyball' to avoid law enforcement allowing it to operate illegally without detection. The tech giant went so far as to enable the software to detect prospective "burner phones" that could be used by the authorities. The software analysed its users credit card details to determine any ties with a police union. This resulted in a different interface to such users with either fake "ghost" cars or no cars and more often than not, the rides would be cancelled if they did somehow manage to book an Uber.
However, Uber denies the use of this software for the above purposes in London, the truth of which remains yet to be determined.
Tom Elvidge, a general manager of Uber in London was understandably miffed with the decision and said that TfL and the Mayor caved in to a small number of people wanting to restrict consumer choice and this decision would put over 40,000 licensed drivers out of work and deprive Londoners of an affordable and a convenient form of transport.
Uber in the News
He said that Uber operates in over 600 cities across the globe including more than 40 town and cities in the United Kingdom.
However, this is not the first time the app makers have got into trouble with the authorities. New Delhi, India had banned the company from operating after a driver was accused of raping a passenger in 2015. While Uber condemned the horrific incident, it is still to be seen what the company does to improve its background checking process.
In Austin, Texas, Uber had to shut down after it refused to submit its drivers to a safer vetting process by the City Council using a fingerprint-based background check.
Several other countries such as Germany and Denmark have raised issues regarding the company's vetting process and its lack of adherence to regulatory rules.
What do the people of London say?
Several Londoners have spoken out in favour of Uber and have claimed that the app based taxi-hiring made their lives safer and more convenient.
A regular user of the app complains of access to less than 30% of tube stations to people like him who use a wheelchair and that buses cover the same distance as an Uber in about twice the time-period.
However, with the availability of black cabs and several other minicab service providers in London, the lives of Londoners will not come to a halt should Uber fail the appeal. In the meantime, the people may continue to book their Ubers legally.
Find out more about Uber and the law >>
Written by Aayush Kainya.