Law Personal Statement Tips: Do's and Don'ts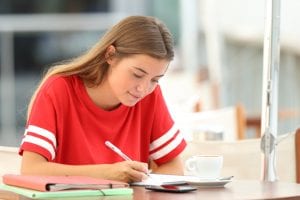 A personal statement offers you the opportunity to 'advertise' yourself to the universities with other means than grades. As this statement can determine whether you get accepted or not, it is crucial that you write a good one. In this article, I will list some do's and don'ts when it comes to writing your statement.
Law Personal Statement Tips: DO…
…spend time on the structure of the text. Structure is very important to law teachers, so show that you have good writing skills already now. Be careful not to exceed the word limit and keep it short and concise rather than long and irrelevant. They are strict when it comes to this, so don't ruin it for yourself already by not obeying the rules.
Law Personal Statement Tips: DON'T…
…start with "Hi, my name is…" or "Dear (…)". This is not a letter, but a statement about how and why you are suitable for a law degree. A good start would be to lay out where your interest in law came from or what you perceive that law is about. I started my personal statement by discussing a current issue that was in the media regarding a hate crime statute. This leads me to my next point.
Law Personal Statement Tips: DO…
…include current issues in law that you find interesting. This shows that you see how law impact society and that you have a passion for the subject. Do not spend too much of your word count on this, but writing a section about this shows that you have some knowledge about the subject.
Law Personal Statement Tips: DON'T…
…write too many facts about yourself. You are not writing about you, but why you want to study law and why you are equipped to take on this challenging degree. They don't need to know about your interests and your life that is completely irrelevant to the subject. The extra-curricular activities you write about don't need to be directly related to law, but you should focus on how the skills you have gained through these activities will help you in your law studies. Law should be the thread throughout your statement and you should therefore relate everything you write about to this.
Law Personal Statement Tips: DO…
…write about your extra-curricular activities you can link to the subject of law. Have you previously been involved in activities that require team work, leadership skills, analytical or debating skills; or studied any relevant subjects? If so, did any of these activities trigger your interest in law? Write about why you think your participation in these things is relevant to law. Examples of relevant activities is debating, model UN projects, societal work and jobs in general. State the skills you have gained through these activities and in which way they are related to law.
Law Personal Statement Tips: DON'T…
…panic! Take your time with the statement and have a friend or a parent look through it. Remember to keep the focus on law throughout your statement. As the law schools have read hundreds, even thousands, of applications before yours, I would recommend trying to distinguish yours from the others'. Don't throw around words like "passion" and "interest", but rather show that your passionate about law through your activities outside of school and your knowledge about the subject. Write about what you have to offer the law school. You must be disciplined to be successful at law school, so show that you have this ability.
Law Personal Statement Tips: DO…
…write a section on what you are planning to do with your law degree. This shows that you have the motivation to do well in your studies as it will lead to you getting your ideal job or training contract. Most of you are probably not sure of what you want to do next. Don't worry; you could also write about some areas of law that you are considering specialising in. It is a good idea to show that you have some ideas of what you want to pursue within law.
Law Personal Statement Tips: Lastly; DON'T…
…end with phrases like: "Looking forward to your answer" or "I am hoping for a positive response!". Like mentioned earlier, this is not a letter. Summarise your reason for applying for a place on a law degree and simply end it with a dot. Do a read-through, edit out the sentences where you are repeating yourself and ask someone else to have a look at it. At this point you are ready to start sending it out and applying for law school.
Oops! We could not locate your form.