Is Being a Lawyer Like the TV Show Ally McBeal?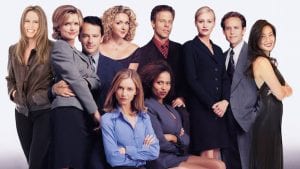 "We live in a fantasy world, a world of illusion. The great task in life is to find reality" – Iris Murdoch
Before there was Alicia Florrick, Rachel Zane, Jessica Pearson and Annalise Keating there was (drum roll please…) Allison Marie McBeal, better known as Ally McBeal.
I was 6 years old when the pilot of Ally McBeal aired on Fox network in the US, but grew up across the pond watching the Golden Globe, SAG and Emmy award-winning legal comedy drama on the TV channel E4.
Calista Flockhart played the leading protagonist, Ally McBeal, a Boston lawyer who unwittingly joins the law firm Cage and Fish, where her former boyfriend already works.
---
Interested in becoming a lawyer but not sure where to start? Come to one of our free, nationwide 'Get into Law' conferences with TLP Aspire 2018!
Book An Aspire Ticket Now
---
Is Being a Lawyer Like Ally McBeal? Kind Of…
There was a point in time when I was at a crossroads, where I had to decide whether I wanted to pursue the career path of a barrister or a solicitor.
Interestingly, I cited the TV show Ally McBeal in my application for a mini pupillage at a criminal law set in London to express my interest in gaining a practical insight into the day-to-day life of a barrister practising in the jurisdiction of England and Wales.
I enjoyed watching Ally McBeal when I was growing up because of the fast-paced environment of Cage and Fish. Ally would have case files dropped on her desk and Richard Fish would casually inform her that she would be giving oral submissions at an arraignment (the American term for a hearing) within the hour, for example.
This is not an entirely unrealistic depiction as barristers are instructed to represent clients in emergency hearings. When I worked as a Litigation Support Manager, I would liaise with private investigators to personally serve non-molestation orders on respondents that had been granted by the court following a recent domestic violence incident.
Legal dramas are popular because of the courtroom showdowns and Ally McBeal was no different. In the pilot episode of the show, Ally was told to get her feet wet by Richard Fish by representing the tabloid Man Made Magazine in a libel claim against Reverend Kessler.
Despite losing at the court of first instance, Ally was a formidable advocate at the appeals hearing where she employed eloquence, persuasion and legal reasoning to ensure that the constitutional right to freedom of speech prevailed, thus winning her first case as an associate of Cage and Fish.
On the whole, the formality of court proceedings were accurately depicted in Ally McBeal and any deviations, such as the firm's standout litigator John Cage screaming during the cross-examination of a plaintiff, were for entertainment purposes that made the show a fan favourite.
Is Being a Lawyer like Ally McBeal? Not Really…
I am currently a trainee solicitor in the corporate department of Bristows LLP and I can assure you that the fictional law firms of Cage and Fish, Lockhart Gardner and Pearson Specter Litt represent romanticised depictions of the legal profession (emphasis added) notwithstanding that these shows are set in the jurisdiction of New York!
Ally McBeal was a sensationalised legal drama that needed to be taken with more than a pinch of salt for an aspiring solicitor or barrister seeking to qualify in England and Wales.
US Attorney vs Practising Lawyer in England and Wales
A key differentiator between a US attorney and a practising lawyer in England and Wales is not in their roles, but in the nomenclature used. I am often asked to explain the distinction between an American attorney and a solicitor or a barrister.
In the US, the terminology of solicitor and barrister is not used, rather an attorney can be a litigator or transactional lawyer, which means non-litigator for the uninitiated.
Ally is portrayed as both a litigator, exhibiting her court room prowess, and non-litigator, holding her own in the boardroom where she is able to think on her feet and put forward pragmatic solutions to commercial problems for clients.
In addition, once an attorney has passed the bar exam of a particular state they are generally able to practice the whole spectrum of law in the capacity of a litigator or non-litigator. Conversely, a qualified solicitor in England and Wales would specialise in an area of law and would not be representing their client in a courtroom unless they had higher rights of audience which enables a solicitor to appear in court as an advocate.
"Fantasy is what people want, but reality is what they need" – Lauryn Hill
Ultimately, the reality of the TV show Ally McBeal is that it was a humorous legal drama created to be entertaining rather than representative of the day-to-day life of a US attorney, let alone lawyers around the world.
Popular legal dramas for millennials such as Ally McBeal, The Good Wife and Suits focus more on the personal relationships of the lawyers depicted rather than the practice of law.
Invariably, it is through open days, work experience placements, vacation schemes, mini pupillages and conversations with practising lawyers that will provide you with a meaningful insight into the day in the life of a lawyer.
An aspiring doctor may draw parallels between life on the hospital ward and Grey Sloan Memorial Hospital, County General Hospital and Holby City Hospital. Yet the medical dramas of Grey's Anatomy, ER, Casualty and Holby City are not intended to be accurate depictions of life as a doctor or medical professional anymore than the fictional lawyer Ally McBeal and the eponymous TV show.
Published: 29/01/18 Author: Hilda-Georgina Kwafo-Akoto
Like This? You'll Love: