Published on January 27, 2020 by lauraduckett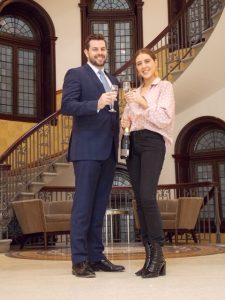 Upskirting is the invasive act of taking photographs up women's skirts without their consent. Upskirters often strike in public places – on the underground, in a nightclub, or at other crowded venues. Until recently, the act of upskirting was not a specific criminal offense in England and Wales.
It could only be prosecuted in certain circumstances, and only as a public order offence. The police and authorities were effectively unable to bring perpetrators to justice. That all changed this year, thanks to the tireless efforts of one brave and impressive young woman and her determined and creative lawyer, Gibson Dunn associate Ryan Whelan.
In 2017, Ryan began representing activist Gina Martin, who was herself a victim of upskirting. Gina retained Gibson Dunn after meeting with a number of other law firms. She says the decision was simple: "Ryan just instantly got it. He outlined the strategy that he thought would be most viable and spoke about empowering me, helping amplify my voice. It was incredible.
"He intuitively understood that as a victim of sexual harassment it was important for me to be centrally involved and his ideas on strategy were on another level to everyone else I had met. Choosing Ryan Whelan to be my lawyer was the easiest – and best – decision I made in the whole campaign. He's a genius and together we were such a formidable team."
The first step in the crusade to criminalize the practice was to craft a solid legal opinion, corroborated by the country's leading authorities on criminal law, detailing the inadequacy of the existing laws in England and Wales and why the practice of upskirting should be recognized as a specific criminal offense with serious penalties attached.
With this legal opinion in hand, Whelan and Martin fought for access to the highest levels of Government and secured support for a bill criminalizing the act from Members of Parliament in every single political party. The media campaign to tackle the issue, on which Whelan advised, included the hashtag #StopSkirtingTheIssue, which quickly started to trend on social media.
The campaign garnered widespread support, including celebrity endorsement, and a petition for the Government to take action was signed by over 100,000 people. As a result of these efforts, a bill recognizing the act of upskirting as a criminal offense passed the House of Commons and the House of Lords, receiving Royal Assent on February 12, 2019. The bill includes tough sentencing guidelines for committing the crime, including up to two years in jail and registration as a sex offender.
Ryan's impressive dedication to this pro bono matter has earned him recognition in the media and across the Houses of Parliament. In the House of Commons, Minister Lucy Frazer QC MP called the campaign "incredible", while Baroness Chakrabarti in the House of Lords said: "I pay tribute to the campaigner Gina Martin, whose original indignity was converted into a powerful campaign to do something important that we can all agree on.
"I also pay tribute to her lawyer, Ryan Whelan, for that campaigning partnership and to parliamentarians on all sides of both Houses who made it possible-even at the expense of rivalries and through self-censoring-to allow a speedy and successful passage of this Bill."
In recognition of his incredible work on behalf of Gina Martin, Ryan received the Gibson Dunn Frank Wheat Award for 2019, and was named The Times "Lawyer of the Week" (2018) and the Law Society Gazette's "Lawyer in the News" (2019).
"Ryan is, I think, the ultimate example of how to do high impact pro bono effectively. He does it for the right reasons, is a brilliant male ally and teaches rather than mansplains. I'd recommend him to anyone; he's a credit to Gibson Dunn – and the wider legal profession," said Gina.
Read More about Gibson Dunn