Published on February 11, 2020 by Sofia Limpo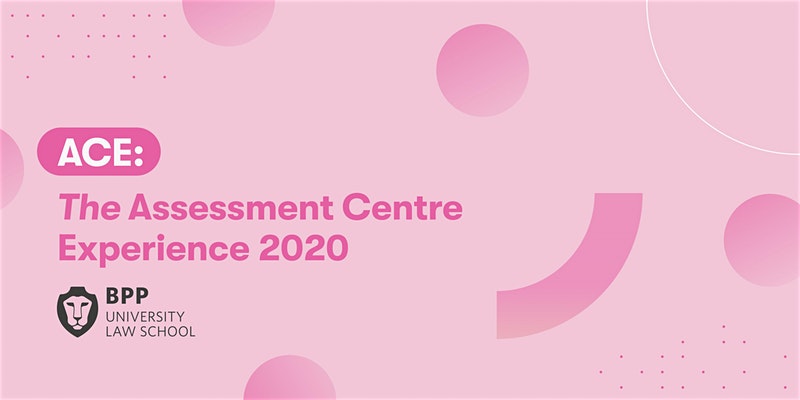 If you're an aspiring solicitor you'll know that securing a vacation scheme and/or a training contract is a fundamental step to achieving this goal. However, successfully securing a training contract involves passing the assessment centre and interview stages. These are both elements in the application process that you, as a candidate, have to excel in if you want to outshine your competition.
Despite the breadth of information you can source from scouring the internet, nothing beats academic-style preparation for such vital components of a firm's recruitment process. BPP University understands your plight and offers a platform from which you can learn how to present the best version of yourself to law firms: ACE!
What is ACE?
The Assessment Centre Experience is BPP's annual event aimed at offering future solicitors the opportunity to experience a simulation of the inevitable assessment centre and interview sections that succeed law firm applications. It lets students practice Assessment Centre recruitment activities and typical interview questions before they have to face the real thing in front of a panel at a law firm.
During ACE, students will do an individual activity, a group activity a speed interview before hearing from a panel of lawyers from a range of practice areas. It's a jam-packed event, giving students a taste of what will be expected of them when the time comes for them to apply to firms.
Why ACE?
Students come away from ACE with bespoke feedback about what they are doing well, and areas that they can improve on, from expert legal recruiters, careers staff and current and former practitioners. This gives them an extra confidence boost and experience before going into their real interviews and assessment centres.
We spoke to Kate Lennie, BPP's Student Recruitment Manager who told us: "BPP works closely with 60 leading law firms, and their input means that the ACE event is realistic and has a positive impact on improving students' employability prospects. In addition to helping develop students' skills, ACE is a lot of fun!
"At the end of the evening, students have the chance to network with (and make a positive impression on) tutors, lawyers and graduate recruiters from a variety of firms. They can make connections, get work experience and find out more about the firms from the staff who work there: this can really set them apart from other candidates when they come to apply for training contacts.
"ACE has now been running for a number of years, and time after time we receive feedback about how vital it has been in helping students to secure a training contract at their dream firm," she added.
All attendees will receive BPP's Professional Skills and Commercial Awareness Certificate 2020, which will show recruiters that the students are serious about their professional development.
What's more, the events are FREE and BPP provides, subject to demand, free return transport to ACE from many University campuses, so there is no stress about how to get to and from the event!
Where are the Events?
BPP is hosting the same event in London, Manchester, Bristol, Leeds and Cambridge, so no matter where you're located, there will be one accessible to you.
Still Undecided?
Read some testimonials from students who attended ACE in previous years:
"I really enjoyed the negotiation activity – it was a really valuable opportunity to learn skills that you don't get the chance to develop at University, but which are essential to the role of a solicitor"
"It was great to be able to ask questions to a specialist panel of solicitors, trainees, and lots of other people from the legal profession – you don't really have access to that on a day-to-day basis, and it is so important to find out what they are looking for and how to make the best application"
"I really enjoyed ACE, especially the speed interviews. It was really helpful to get feedback instantly, listen to other people's answers and use the experience later on"
Book your space for free:
Secure Your Space