10 Tricks to Improve your Law CV at University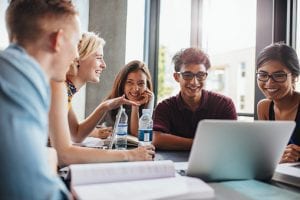 Published: 31/10/17 Author: Harriet Parfitt
It's a dog-eat-dog world out there. Law might be jolly good fun, but it's also outrageously competitive. However, aspiring lawyers, do not be disheartened! University is an unprecedented platform for sampling many of the legal experiences you will face in your future careers, and these opportunities are not to be wasted when writing your law CV. Follow these top tips to maximise the possibilities made available to you.
Law CV Improvement Trick 1: Join Your University Law Society
Your University Law Society is the central hub for all things legal. It is their role to provide you with plentiful advice, aspirations and activities into which you may chose to channel your passion for the law. Networking with fellow non-law and law members will enable you to compare and contrast your knowledge and experiences with like-minded people, and may even give you insight into how to better your personal achievements or accolades. Often law schools are sponsored by certain firms, so take note. This may be of use when it comes to applications – you can talk about some of the firm's sponsored events you have accessed through your law club.
Law CV Improvement Trick 2: Take on a Position of Leadership
With most universities boasting over 300 societies, get involved. Taking the initiative and becoming a leader will not only boost your confidence in public speaking, time management and teamwork, but prove to employers that you are prepared to go that extra mile. A good example in a law-related environment is to become a Campus Ambassador. Not only does this keep you in the loop with top employers, but it will demonstrate to firms/chambers that you have the ability to work alongside professionals. You can even become an ambassador for TLP!
---
Do you want to add some leadership abilities to your CV? Author Harriet is a TLP Ambassador for the University of Bristol.
Apply to Represent Your University
---
Law CV Improvement Trick 3: Make it Count
Law graduates are well sought after by a number of employees, so reap the benefits of their offerings whilst you study. Firms will often provide commercial awareness workshops, debating competitions and insight days, and these can be invaluable both on paper and towards your personal development.
Law CV Improvement Trick 4: Attend Your University Law Fairs
A golden gate of opportunity to network with employee, navigate through your career options and nail that that vacation scheme invitation. There will be a number of very prestigious firms and companies from all over the country in a multitude of practises ready and waiting to be wooed by YOU. Go prepared. Dispel the temptation to go in your normal pyjama jumper and dress to impress. Have questions ready for the firms you have researched in advance and have gauged an understanding of. Build up the confidence to ask that graduate employer what they are really looking for in their applicants. This experience could be make or break between you securing a training contract – recruitment teams love to see interest. And maybe you'll even get some of these free Smarties after all.
Law CV Improvement Trick 5: Careers Service Workshops
The majority of law students will seek to get a training contract for when they complete their years of study (bar those who thought that even three years of legal practise was too much). The interview process for both vacation schemes and training contracts increases in intensity every year, as competition and intrigue into the career of law grow exponentially. Get ahead of the game. Your careers service can provide you with CV reviews, mock-interviews, and even workshops on different question and response formats you might come across when facing a prospective employer.
Law CV Improvement Trick 6: Embark on Some Pro-Bono Work
The majority of city law firms now have pro-bono work as a popular opportunity for their employees to take up, so why not test the waters? Some universities have law clinics where you can provide supervised advice to the public whereas others have charity initiatives to raise money for local free legal advice providers. Do your bit – you'll make your parents proud and your potential employer even prouder!
Law CV Improvement Trick 7: Get Some Work Experience
Work experience demonstrates that you are serious about a career in law. Whether you secure a winter/spring/summer scheme at a London firm, mini-pupillage at a chambers or a placement at a regional small scale solicitors, it is all evidence that you know what you want and are determined to get it. Also, it gives students a chance to try before they buy! The experience might clarify what sector you do/do not want to practise law in, or whether you actually want to practise law at all. And if you are not willing it give up those lazy summers on the sofa for a vacation scheme in the big city, you might want to ask yourself whether you are really cut out for the demanding nature of your future career.
Law CV Improvement Trick 8: Do Something Different
Working in law is all about a work-life balance. This resonates just the same during your studious years. Take up Ultimate Frisbee, become fluent in Hungarian, or maybe start a job at that nightclub you've always loved! Employers need to be able to distinguish you from the crowd, so in enjoying yourself you are only making yourself a more well-rounded and attractive candidate.
Law CV Improvement Trick 9: Get the Grades
This goes without saying. An employer would rather a high 2:1 with a couple of extra-curricular involvement examples than a third by a President of every society possible. Your CV should be an example of you as a balanced individual, so make sure you continually prioritise what matters most.
Law CV Improvement Trick 10: Presentation
Don't waste all your hard work with a sloppy CV. Make it clear, concise and commendable. Be proud of what you have achieved and demonstrate that. Make an appointment with your personal tutor for them to give it a read and ask for feedback. Act on that feedback then do the same with the university careers service. Finally, Skype the grandma and let her give it a read (once she has found her glasses). A second pair of eyes goes a long way… If you can impress and be impressed by your own achievements, that will shine through in the interview process.
With all that in mind, remember that building a CV takes time. Appreciate each opportunity as it comes, and makes notes on your experiences so you can reflect on them honestly. Above all, do what you think if worthy of your time. You've got three years – make it count!
Oops! We could not locate your form.