Published on July 24, 2017 by Laura
Welcome to your Lawyer Portal weekly news summary. This post will cover the legal news stories from 17th – 23rd July. This week, three new Supreme Court judges have been appointed, a consultation to reform gender identity laws has begun, and the High Court has been told that the Suicide Act 1961 breaches human rights law.
On Friday, the new line-up of the UK Supreme Court was revealed. After a landmark appointment, Baroness Hale of Richmond has become the first woman appointed as the UK's most senior judge. Lady Hale will take up her post when the current president of the Supreme Court, Lord Neuberger, retires in September. Lady Hale was made deputy president of the Supreme Court in 2013, having previously served as the first female Lord of Appeal in Ordinary and Justice of the Supreme Court from its opening in 2009. She is also one of only a few senior judges to have attended a state school.
A further three brand new justices of the Supreme Court will be sworn in in October and will replace Lords Neuberger, Toulson and Clarke. The first is Lord Justice Briggs who is an expert in commercial and chancery law, a Court of Appeal judge and the deputy head of civil justice. He has previously championed online cyber courts for low-level disputes.
The second appointment is Lady Justice Black who is the first lawyer in her family. Her initial career covered a range of civil and criminal law but her expertise is predominantly in family law. Black, along with four of her fellow female Court of Appeal counterparts, has been featured in a large work of art commissioned by Inner Temple to celebrate the achievements of its female members. The final new Supreme Court justice is Lord Lloyd Jones who was born in Wales and has practised in international, EU and public law. Lloyd Jones has a background in law reform and was appointed chairman of the Law Commission in 2012.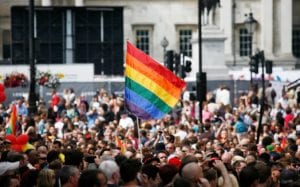 Planned reforms to gender identity laws could allow people to pick their own gender without a doctor's diagnosis. Proposals being considered by ministers could allow adults to change their birth certificates at will without a doctor's diagnosis, while non-binary gender people will be able to record their gender as "X". If approved, the changes will be included in a planned Gender Recognition Bill, to be published this autumn.
Currently, a person who wishes to transition must apply for a Gender Recognition Certificate which requires a doctor's diagnosis of gender dysphoria and must state that the individual has lived as a member of the opposite gender for two years. Current law does not officially recognise non-binary individuals. The reforms were recommended by Parliament's Women and Equalities Committee last year, which said that they were key to trans people being "treated equally and fairly".
The proposed reforms could make changing your gender as easy as changing your name via Deed Poll. The changes in law are intended to remove the bureaucracy surrounding gender identity. The need to be assessed and diagnosed by clinicians is regarded by many campaigning groups as intrusive.
Equalities minister Justine Greening said: "This Government is committed to building an inclusive society that works for everyone, no matter what their gender or sexuality, and today we're taking the next step forward."
At the opening of a week-long courtroom challenge aimed at legalising assisted dying, Richard Gordon QC has argued that the Suicide Act 1961 breaches human rights. Gordon represents Noel Conway; a retired lecturer who has motor neurone disease and has been fighting to legalise assisted dying. Conway is dependent on a non-invasive ventilation device for 20 hours each day and has been told he has less than a year to live. Conway has said that he will feel increasingly "entombed" in his own body as his condition deteriorates and wants medical help to end his life.
Lawyers for Mr Conway have argued that section two of the Suicide Act 1961, which criminalises any attempt to encourage or assist another person in ending their own life, is incompatible with article eight of the European Convention on Human Rights ('ECHR'), which guarantees the right to respect for private life and personal autonomy. Richard Gordon has said that individuals over 18, diagnosed with a terminal illness and given less than six months to live should be allowed to end their own life with medical assistance, provided they have made a voluntary, clear and settled decision to die and have the ability to undertake the final act.
Current laws force those seeking to end their lives in a dignified and less painful way to travel to Switzerland. Supporters of voluntary euthanasia have said that the UK ban on assisted dying forces the terminally ill and their family to make the decision to end life far too early. Gordon has said that at present "the choices facing the claimant are stark and unpalatable: seek to bring about his own death while he is physically able to do so, but before he is ready to do so, or await death with no control over when and how it comes."
Gordon has argued that lifting the ban will provide the terminally ill with autonomy. While he recognised that the proposed changes will pose a risk to weak and vulnerable people, he pointed out that these risks already exist in the law. Linda Deverell, a patron of Dignity in Dying, said that a system requiring the approval of at least two doctors and a judge would provide sufficient legal safeguards.
Words: Mariya Rankin