3 Things I Wish I'd Known Before My Vac Scheme Interview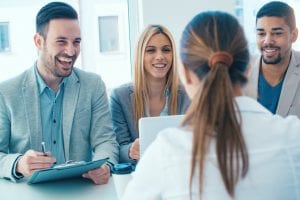 If you have received an invite to attend an interview for a vacation scheme, this means you are one step closer to attaining some valuable work experience.
However, the vacation scheme interview can be a daunting experience if you have never had one before. Each interview will be different and you may not be able to predict everything that will be asked.
Thus, here are three things I wish I'd known before my vacation scheme interview.
---
NEW FOR 2018: Our Interview Practice Simulator package is the perfect, innovative way to prepare for your upcoming interviews – video or face-to-face. Access real legal interview questions through our video interview package now!
Book the Interview Practice Simulator
---
1. Preparation is Key
Preparation for the interview is vital to ensure you can demonstrate that you are a suitable candidate for their vacation scheme.
Firstly, you need to be prepared to talk about the firm you are applying for. A firm may be interested in why you have applied to them and the reasons why you think the firm is right for you to undertake a vacation scheme with. The firm may want to see that you are committed to a career as a solicitor and you should be able to explain what steps you have taken to achieve this career goal.
Therefore, you will need to do some research about the firm's areas of work, what the culture of the firm is like and what type of candidate they are looking for. All of this information will help you to explain why you think you are the perfect fit for that firm.
This research can be done using resources such as the firm's website, their social media pages and speaking to the firm's staff at law fairs. Just make sure you do not simply recite paragraphs from their recruitment page!
Additionally, you also need to be prepared to talk about your personal motivations to pursue a career in law. For example, you could describe a particular experience that has inspired you to study law.
I was a little thrown in an interview when a firm asked me which department in their firm I would not like to work in. This tests your knowledge of the firm, as you obviously cannot say a department that the firm does not have.
My answer was, "I would elect not to work in the construction department. This is the area of law that I know least about due to not being able to study construction at university. I would not like to write the possibility of working in construction off completely however."
Furthermore, another important part of preparing for your vacation scheme interview is being prepared to talk confidently about yourself and your experiences. You need to be able to provide evidence for your skill-set and the key competencies that firm's consider vital for a trainee solicitor to be able to demonstrate. This means taking your work experience and your extra curricular activities and discussing the ways in which these have enhanced your skills.
For example: your volunteering as a guide leader may evidence your leadership skills, or your role as the social secretary for the mooting society evidences your organisational and time management skills. However, do not forget to explain how you demonstrate these skills.
A question that I have been asked a few times at different firms is, "What hobbies/activities do you participate in outside of university?" This is an excellent way to showcase your love of cycling or the fact that you are a member of the local netball team. The firm will most likely be looking for well-rounded individuals who participate in activities that can develop skills that university cannot.
2. Practice Makes Perfect
The best way to prepare for an interview is to practice. This could be with a family member, a friend, a colleague, or even practising answering some questions yourself in front of a mirror or a camera could be beneficial. Some universities also offer interview practice sessions with the careers team, so make sure you make use of this service if it is available!
I felt a little embarrassed watching myself back in a video, but it is the perfect way to see first hand how the interviewers will be seeing you for the first time.
You could even try The Lawyer Portal's new Interview Practice Simulator, which allows you to answer video interview questions in timed conditions and provides model answers for each common question.
3. You Have Done Well to Make it This Far!
Whilst it's normal to be anxious or apprehensive before an interview, just as I was, it is important to remember how well you have done to make to the interview stage. This means that the firm are impressed by your application and would like to find out more about you in person.
You need to acknowledge the fact that you have done well to make it this far and use this to drive you through the interview. The next step is to make the most of the opportunity to impress the firm by taking them beyond your application and demonstrating you would be a good candidate for the vacation scheme.
Although some students may find it easy to get a vacation scheme, it is often the case that you may need to complete a few interviews before you get an offer. The process will be different for everybody and you will build up confidence after each interview, making it a little easier every time.
Finally, the best piece of advice that you need to remember for your vacation scheme interview is to always be yourself. The firm has invited you to the interview to get to know the real you, so make sure you are ready to demonstrate your best qualities.
Published: 30/01/18 Author: Jasmin Bateman
Don't Stop There! Secure a Vac Scheme With These Articles: