Published on December 13, 2018 by Maria Correa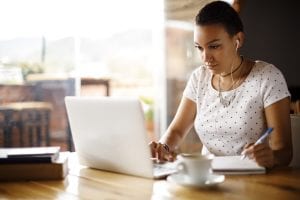 The LNAT does not require you to revise specific topics. Therefore, it's not a test of intellect, and instead tests your verbal reasoning skills and ability to understand and analyse complex issues. This means that there are limited ways to prepare for the test.
Officially, the LNAT website recommends that reading the newspaper regularly is sufficient for understanding current affairs. Also, it gets you accustomed to reading complex texts and thinking about them critically. First and foremost, understanding the structure of the test and what is expected is key.
---
Take 30 seconds to sign up to TLP and you'll receive free, tailored information for your aspirations and stage straight to your inbox, as well as be the first to know about new, free events – what are you waiting for?
Sign-Up Now
---
Here are some further tips for tackling each part of the LNAT:
#1: How to Ace the LNAT: Multiple Choice Section
Read

the questions before the passage
A good way to answer this section is to quickly read the questions before reading the passage itself. This will help you to have these considerations in your head and you will have a vague idea of what to look out for. When reading the passage, bear the questions in mind. Furthermore, reading the text slowly and thoughtfully will help you analyse the arguments.
You may feel like you need to read fast because of the time pressure, yet it is far more effective to read slowly and fully understand it; you will then be able to easily answer the questions. Furthermore, attention to detail is extremely important in this section because the questions can be extremely difficult.
Want to find out how you can start preparing to get a top LNAT score? Click here.>>
What to do if you're stuck…
If you find that you are stuck on a question, a clear solution would be to answer the rest of the questions and then come back to it at a later stage. This helps you to briefly refresh your brain and upon reading it again having attempted all the questions you might read it in a different way to how you read it initially. Having done this, if you really have no idea as to what the answer could be the best way to go about it is by process of elimination. Thus, rather than trying to find the correct answer look at the answers from a different perspective and try to rule out the most unlikely answers first- whatever you are left with must be correct.
Looking for alternative LNAT revision tips? Click here.>>
As mentioned, reading newspapers is one of the best ways to prepare, but specifically for the multiple-choice question there are certain things to be aware of. When reading an article, try to get into the habit of ascertaining what each paragraph is about as it is important for you to know what role each paragraph plays in the writer's arguments. In the test, this is useful in understanding which part of the text a question refers to, and therefore you can discard the irrelevant areas. Whilst reading you should distinguish where the writer makes a statement of fact or opinion. All these considerations will help you to grasp the text and all its details.
Find out what you need to know this year by reading our 2018 legal news post. Click here.>>
#2: How to Ace the LNAT: Essay Section
Pick a side to argue

and defend it
The essay proportion of the LNAT again does not require you to know a lot about the topic they give you and it's inevitable that most candidates will sit the test and know little about what the essay question involves. Therefore, you must argue based on assumptions and common sense; thereafter you can try to formulate a viewpoint. It is wise to pick a side of the argument and defend it strongly. Do not 'sit on the fence' as this may convey uncertainty. Nevertheless, considering counter-arguments shows open-mindedness and can in turn help to strengthen your argument because it is possible to rebut the counter-arguments.
Want more essay writing tips? Click here.>>
The length of your essay should be around 500-600 words. This amount will prevent you from going off-topic and push you towards concise arguments. Anything shorter may indicate a lack of understanding. If you are unsure about how much of a page this takes up, it is advisable to write an essay before the test, to get a better idea. Sentence formulation should be kept simple as the substance of your writing is the most important part.
Although you are under timed conditions, you have enough time to write something that has been given a lot of thought. Therefore, it is wise to write a plan. Albeit, the plan cannot be very elaborate but, a brief plan will help you to structure your essay and will help to organise the flow of your arguments. A simple yet very important tip!
Interested in reading our guide to the LNAT essay section? Click here.>>
Prepare by reading and writing
Reading the newspaper will also be the best preparation for the essay section. As for the essay question, reading the newspaper will help widen your knowledge on topical issues. The essay question tends to be on a topic that or has been the subject of controversial discussions. Thus, by getting a wider sense of what is happening in the world the easier it will be to argue. Furthermore, you should, based on what you read, try to form arguments. It may even be useful to try writing an essay on something you have limited knowledge, defending an argument under timed conditions. Maybe ask someone you know to read the essay so as to get feedback.
Read You Aced Your LNAT but Didn't go to Law School. Now What?
Read more about the LNAT and how to prepare for it: